On May 20, 2015 Parsons Paris BFA Fashion Design seniors presented their final collections on the runway at Espace Rue du Mail in front of an audience of 200+ industry specialists, journalists, friends and family.  The nine seniors adopted the name NEUF, which translates to new and 9 in French. Learn about their collections below, and don't miss their collections on the runway in the video! #parsonsparis_seniorcollections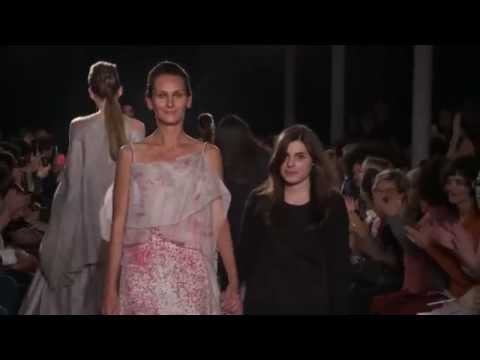 LINDSAY WALSH /USA/ @_lindsay_walsh
Petrify. This collection explores both meanings of the word: being so frightened that one cannot move; turning to stone. The collection explores ideas of vulnerability and defense, combining hand-molded untanned veg leather with laser cut technical crin.


Photo credits: photographer: Anna Dabrowska, model: Cornelia Raviot, hair/make-up: Jay Kwan, stylist: Chiara Chinigioli
SASHA GRIGORIK /Canada/ @sashagrigorik
Masculine. A concept under construction, a dialogue of division, an intersectionality of gender. Let's blur the lines, let's take the traditional roots, let's develop a new dress code to challenge the normative view and let me become you. 

Photo credit: photographer: Sam SSefa, model: Joanna Graca, IMG Models, hair: Mayumi Shimizu, make-up: Yuka Sudo
NITZAN NEVO /Israel/ @nitzannevo.nn
Clean War. With no ability to harm, there is no need to face consequence. The memories of war are now lingering on white canvas. A painful quietness. This collection examines basic freedom of movement and investigation of self.


Photo credit: photographer: Manuel Obadia-Wills, make-up/hair:Manon Carrié, model: Alison Dechandon (CITY models)
ERIKA CHONG /Canada/ @erikazchong
Relief. Her presence will be signified and her burden emphasized, yet she will walk with fragility and grace, she is helpless yet still beautiful. A collection for The International Relief Committee for the Wounded seeking to give comfort back to comfort women.


Photo credit: photographer: Vincent Sadoul, model: Liz Hing, make-up: Elisa PM
EMANUELA POTORTI /Italy/ @emanuelapotorti
Exploring Coincidences. Any set of coincidences may be just a form of synchronicity, that being the experience of events which are usually unrelated and yet their occurring carries meaning. Heavily focused on mixed fabric and layered finishings, create an effect that juxtapose linear silhouettes.


Photo credit: Photographer: Vincent Sadoul, make-up artist: Elisa P.M, model: Carolie Erischsen
DANIELLE COLE /USA/ @D__Siobhan
Fragment / Fragmental. The isolated compilation of pieces in a pre-existing form. The fragmented recollection of a dark dream. Not entirely visualized, but glimpsed in flashes. A contrast of hand-stitched sculptural silhouettes with fluid leather bonded to silk.


Photo credit: photographer: Efisio Marras, model: Maria Silchenko, makeup/hair: Michèle Anderhub 
CHRIS KIM /USA / @CK.O
Blush. What does it mean to be vulnerable? The moment when you are caught off guard. Exposed, open, raw, fragile but you go on or do you stop to regain control? Is it a choice to reveal yourself? Or to be exposed? Do you blush?

ISABEL BLANCO /Spain/ @isabelblaiz
Shifted. A small shift changes everything along. A shift to the front that fast forwards the moment. A shift to the back seems to slow down time. The grain line, the seams, the direction of the print or that pocket showing underneath repositioning the effect on the body.


Photo credit: photographer: Sam SSefa, model: Claire Rousseau, IMG Models, hair: Mayumi Shimizu, make-up: Yuka Sudo

KELSEY HUTTON /England/ @KELZHUTTON
Contrast of Opposites. Decision is a sharp edge, clean, bold and straight; indecision is blunt and rounded: it tears away, leaving fringed edges behind, two halves make a whole. This collection bursts through electric textile manipulations in the form of fitted versus oversized silhouettes.


Photo credits: photographer: Vincent Sadoul, make-up: Elisa PM, model: Nicky Barutzki
SPONSORS
Espace Rue du Mail, InDigital Media, Semeiotics, Inc, Fashion GPS, Shu Uemura
SPECIAL THANKS
Jimmy K.W. Chan, Simon Collins, Ali Kabal, Eddie Mullon, Elsa Rivoire, Silvia Mawad Perez, Terence Foster, Lubin Papavassiliou, Valentine Dubus and the Production Team at Twenty Two, Ludovic Engrand and the Make-Up Team at Shu Uemura, Matthew Pollock, Fabio Donghi, Ivan Martinucci, Paolo Pucci, Evan Manifattori, Gianni Pucci, Elia Weppe and the Team at Conservatoire du Maquillage, Pierre Mignon, Petits Fours, Gila Toledano and Domaine D'espérance, Adrianna Janiszewska at Rock Models, Jenny Lescure at City Models, all the Show Models, all our wonderful student dressers, front of house team, Susan Taylor-Leduc, Florence Leclerc-Dickler, Jennifer Gautheir, Alison Carey, Anne Ditmeyer, Alice Cavanagh, Damian Yee, Yong Andersson, Esther Yance, Brankica Chauvain, Simone Sommer, Semra Firat, Monica Fraile, Morgan Connellee, Wing Yee Lam, and Francielle Rambo.