Parsons and Parsons Paris are delighted to extend a warm welcome to Melissa Rancourt, new Academic Director for the recently launched Global Executive Master of Science in Strategic Design and Management.
Under Melissa's leadership, this innovative new program promises to offer emerging leaders of the 21st century global economy an opportunity to gain essential, actionable insights to the rapidly evolving business landscape. Intentionally designed to meet the demanding schedules and diverse needs of working professionals, the Global Executive MS-SDM program can be completed in about 18 months through a dynamic mix of short weekend intensives at Parsons Paris, complemented by flexible online learning modules and two week-long integrative studio sessions held in New York and Shanghai, respectively. Applications will be available in September and the inaugural cohort of students will begin their journey in Paris in July, 2016.
A leading executive and entrepreneur in her own right, prior to joining Parsons Melissa taught a wide range of courses in master's, MBA, and executive education programs on subjects including global business strategies, business design planning, entrepreneurship, operations management, negotiations, project management, communication, e-commerce, international marketing and branding, data-driven decision making, and business statistics. Her educational background includes a Bachelor of Science in Industrial Engineering from Rochester Institute of Technology in New York and an MBA in Entrepreneurship from Babson College as well as creative writing studies in Oxford University.
Over the past several years, Melissa has had the opportunity to address professional audiences as a keynote speaker, conference moderator, and graduation commencement and award presenter on various business and social subjects. She is a two-time TEDx speaker for Brussels and Luxembourg and a United Nations speaker on human rights and has presented at various events of all sizes in Europe, the United States, Brazil, India, and the UAE. In addition, she has appeared on the U.S. TV show Living Abroad, Bloomberg, Euronews and several other media outlets.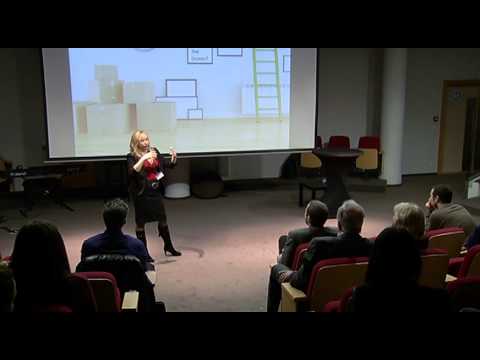 She is also a philanthropic entrepreneur who founded an international nonprofit a few years ago to encourage girls around the world to study math and science. The organization now has 1,300 volunteers operating on five continents; it has reached more than 10,000 children and provides university scholarships to children in need.
As Academic Director, Melissa brings great energy and expertise in creating, designing, and developing international businesses to the area of professional master's programs.
Want to find out how you can start your own global executive journey? No need to wait until applications are available in September.
Get in touch by contacting Melissa directly, or start exploring the latest trends in global creativity and innovation with a LIVE recording of Melissa's dispatch from the Cannes Lions International Festival of Creativity, part of our Parsons Perspectives webinar series.