Important Reminders for Accessing Campus Next Week
Michael Schober, Senior Vice Provost for Faculty Affairs
Dear members of The New School community,
We are days away from a return to in-person teaching and learning—a momentous occasion after the past 18 months, and one that comes with both excitement and apprehension for many. We very much look forward to welcoming those who are joining us for the first time and seeing our returning students, faculty, and staff in person again.
At the start of the semester we want to take extra care to ensure everyone is able to access campus buildings without delays at entry points and ask you to please take the following steps:
Make sure you have uploaded your vaccine card and submitted a COVID test before you arrive (see further instructions below).
Arrive at least 15 minutes early to your class, or even earlier if that's possible.
Stay up-to-date with testing requirements by checking your testing schedule here.
Please also consider taking the stairs If you are able, so that those who cannot will have access to elevators.
This video provides details on how to gain clearance to access buildings on campus.
In order to access campus this fall, please remember to:
1. Submit your vaccination record or your vaccination exemption request via the Student Health Services Portal as soon as possible.

2. Get tested within the seven days prior to your first entry to campus. Stay on track with ongoing testing requirements by checking your testing schedule here. You may use the free binx test kits available on campus or submit proof of a negative PCR test at shsportal.newschool.edu. If you use a binx test, please do not upload your results. Results from binx tests are automatically sent to the university. If you get tested at an off-campus testing site, you must upload your PCR test results to shsportal.newschool.edu for verification.

3. Check your clearance status BEFORE coming to campus. Log into shsportal.newschool.edu using your NetID and click the red "Show Badge" button on the home screen to display your clearance badge. You are cleared for access if you have a green screen that says "Campus Access Granted."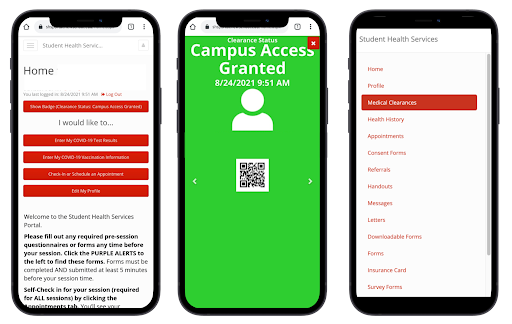 *NOTE: If your badge is red, check the Medical Clearances section on the SHS Portal to see what is causing the red badge. If you believe there is an error, please contact Human Resources at (212) 229-5671 ext. 4942 or email benefitshelp@newschool.edu to discuss your situation. You can enter the building if a) your badge is green and displays today's date and b) you can present proof of identification (New School ID card or government-issued ID).

More guidance on accessing campus buildings is available here, including information on troubleshooting any potential issues you may encounter.

4. Bring your New School ID. Vaccine and testing compliance is linked to your New School ID card, enabling access to buildings on campus. If you do not have a card or are not sure it is activated, please contact newcard@newschool.edu. Staff members will be stationed in building lobbies to provide assistance and resources if you have problems accessing campus during the first two weeks of the semester (August 30 through September 10).

5. Wear a mask at all times while in campus buildings. This requirement applies to all academic and administrative spaces including conference rooms and common areas such as hallways, lobbies, and elevators. Guidance on mask-wearing and acceptable mask options is available here. Masks will be available at no cost from vending machines in most academic buildings and residence halls.
Previously shared resources for faculty are available on the Teaching and Learning page. Additional information from Distributed Education for online teaching and learning is available here. More information about our health and safety policies is available in our Fall 2021 Health and Safety FAQ.
We know there will be bumps in the road as we embark on this return together. Many thanks to everyone for your continuing patience, understanding, flexibility, and commitment to caring for each other.