Important Reminders for Accessing Campus Next Week
A message from Tracy Robin, Assistant Provost for Student Health Services
Dear Students,

I hope you are looking forward to beginning the new school year in the coming days. As we prepare to welcome everyone to campus for in-person classes next week, I want to share the following reminders to help ensure you are able to enter campus buildings.

1. Upload your COVID-19 vaccination record or your vaccination exemption request as soon as possible to the Student Health Services Portal by following these instructions.
If you have already uploaded your record, you do not need to resubmit it. Student Health Services staff will email you if more information is needed.
MMR and Meningitis records are still being reviewed by our medical staff. While this process is being completed, you will be able to enter campus buildings. Students will be notified if any documentation is missing.
International students who need to get a vaccine in New York can visit the New York City Vaccination Sites and New York City Hospital Vaccination Sites pages to find a clinic near them. Please also review the Travel Guidance page and ISSS FAQ for more information about quarantine, testing, and vaccination in the U.S.
2. Take a PCR COVID-19 test no earlier than seven days before your first visit to campus this fall. Rapid antigen and antibody tests will not be accepted. You can use the testing schedule tool on our website to determine when you should get tested.
I strongly encourage you to use a free binx test kit available on campus. If you choose this option, please do not upload your results to the portal. Results from binx tests are automatically sent to the university. If you get tested at an off-campus testing site, you must upload your PCR test results to shsportal.newschool.edu for verification.
If you have already moved into campus housing or attended in-person orientation sessions this week, you have completed your entry test requirement and can follow the instructions for ongoing testing throughout the semester.
3. Check your clearance status before coming to campus. Log into shsportal.newschool.edu using your NetID and click the red "Show Badge" button on the home screen to display your clearance badge. You are cleared for access if you have a green screen that says "Campus Access Granted."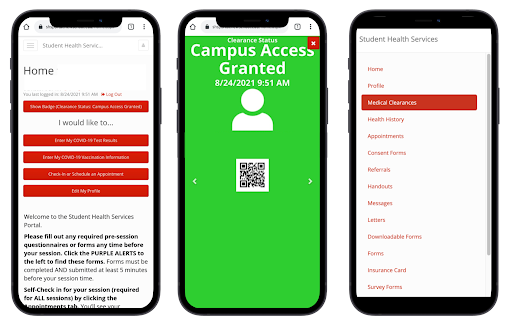 You can enter the building if a) your badge is green and displays today's date and b) you can present proof of identification (New School ID card or government-issued ID).
Please Note: If your badge is red, you will not be permitted to enter the building. Check the Medical Clearances section on the SHS Portal to see what is causing the red badge and if you believe there is an error, please contact tnscarespecialists@newschool.edu to discuss your situation.
4. Bring your New School ID. Vaccine and testing compliance will be linked to your New School ID card and allow you to enter campus buildings. If you do not have a card or are not sure if it is activated, please contact newcard@newschool.edu.
5. Wear a mask at all times while in campus buildings. This requirement applies to all academic and shared spaces including classrooms, hallways, lobbies, lounges, and elevators.
Unvaccinated students with approved medical or religious exemptions and partially vaccinated students must also wear a mask in their residence hall suites.
Guidance on mask-wearing and acceptable mask options is available in the COVID-19 Community Guide. Masks will be available at no cost from vending machines in most academic buildings and residence halls.
Thank you in advance for your patience, understanding, and commitment to caring for each other. More information about our health and safety policies spaces is available in our Fall 2021 Health and Safety FAQ. I look forward to a safe and successful start to the fall semester.