Fall 2022 Health and Safety Update
We hope everyone is doing well and students on campus are enjoying their summer classes. Preparations for fall are well underway, and we are eager and excited to welcome everyone back for a healthy and safe academic year.
As we look forward to being back together on campus, we have been focusing on two important goals: protecting the health and well-being of our campus and ensuring that our students have the best educational experience. We know COVID-19 isn't over, but we also know far more about how to keep each other safe. And while there is still much to learn about the virus, the primary tools to keep our community safe remain widespread vaccination, targeted testing, masks, ventilation, and science- and data-driven decisions.
Please scroll down to read more about:
Reminder: Summer health and safety protocols remain in effect
Vaccination requirements for the 2022-2023 academic year
Fall entry testing requirements
Mask guidance
Looking ahead
Reminder: Masks Continue to be Required in Indoor Instructional Spaces Throughout the Summer
As we shared last month, the university requires community members to wear a mask in indoor instructional spaces on our campus when there are two or more people present for a sustained period of time. This policy encompasses all classrooms, instructional spaces, labs, studios, concert and lecture venues, libraries, as well as Student Health Services.
Vaccination Requirements for the 2022-2023 Academic Year
For the 2022-2023 academic year, The New School will continue to require that students, faculty, and staff be up-to-date with their COVID-19 vaccinations, including a booster when eligible, or obtain a university-approved medical or religious exemption. Please visit our COVID-19 Community Guide for a full list of approved COVID-19 vaccines.
The Fall Semester Begins with a Brief Entry Period of Required Testing, Starting on Monday, August 15, 2022
The 2022-2023 academic year will include a brief entry period of required COVID-19 PCR testing at the start of each term and after long breaks.
The fall 2022 entry period begins Monday, August 15, 2022 and will last for approximately five weeks (tentatively ending Sunday, September 18, 2022). During this period, everyone must test before arriving on campus and test regularly using a PCR test. The university will continue to provide free PCR tests to all active students, faculty, and staff. Rapid antigen tests are not accepted for required testing.
This period of required testing will help identify and isolate positive cases to limit transmission on campus. It will also establish a baseline for COVID prevalence in the community to inform policies and adjustments this semester. Test results and other relevant data will be shared regularly on the university's COVID-19 Data Dashboard.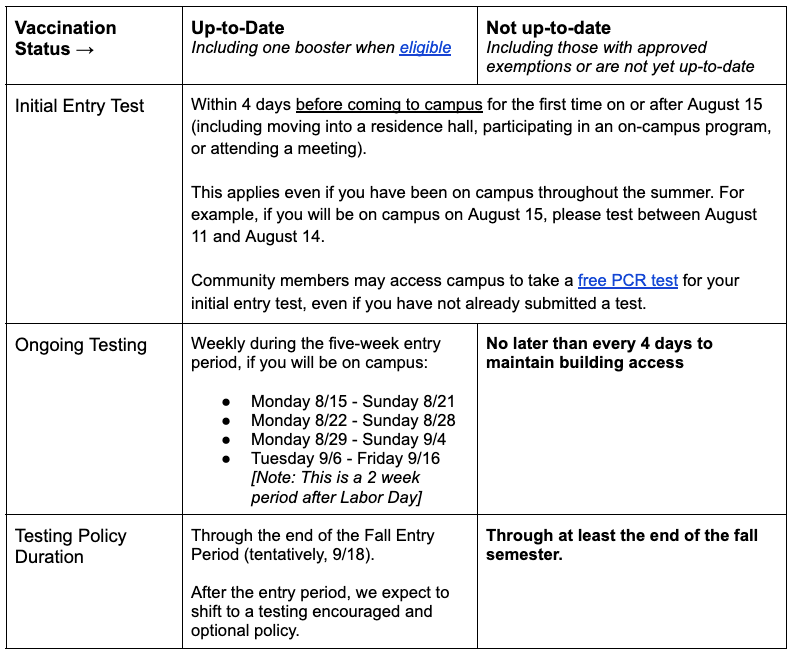 If you test positive at any time, including during the summer, please upload your positive test result to SHS Portal if you use an external testing provider or rapid antigen test. Stay home and immediately contact Student Health Services or your medical provider. Everyone must follow the university's isolation policy to help limit the spread of the virus to others. Individuals who test positive via a PCR or rapid antigen test are exempt from required PCR testing for 90 days after recovery.
The university will also have a brief entry period after the Thanksgiving break. We will follow up in early November with details, including required testing and updates to mask policies at that time.
Mask Guidance
Masks will be required in indoor instructional spaces on our campus when there are two or more people present for a sustained period of time. Community members must wear a mask in all classrooms, instructional spaces, labs, studios, concert and lecture venues, libraries, and Student Health Services.
Voluntary Maskless Practice at the College of Performing Arts is still in effect. Those eligible can choose to remove their masks with additional testing.
We will evaluate our mask policy and announce any adjustments at the end of the Fall Entry Period, no earlier than Sunday, September 18, 2022. We look forward to being able to safely return to a mask encouraged and optional policy.
Masks will continue to be available at no cost in most academic buildings and residence halls.
Any member of the community can voluntarily choose to wear a mask in any setting at any time and for any reason (including personal and community protection against seasonal flu and colds), should the university adjust the mask requirement in the future. This personal choice should be respected. As with vaccination status, no one should ask another individual about their personal choice to wear a mask.
Looking Ahead
In the weeks ahead, we will be sharing regular updates and reminders to ensure everyone has the latest information about the university's health and safety protocols. We're grateful for your ongoing flexibility and adherence to these important health measures. By caring for one another, we will help keep each other safe.