Our Financial Realities
A message from Tokumbo Shobowale, Executive Vice President for Business and Operations
To The New School Community,
I'm writing to share more broadly information about the realities of the university's financial situation with respect to the part-time faculty union negotiations. Despite our continued efforts to provide accurate and transparent information, there is a great deal of misunderstanding about the facts. I recognize that we're dealing with a deficit in trust among our community and hope you'll consider the key materials and facts below, which were prepared by our dedicated colleagues from Budget Planning and Institutional Research, along with other departments.
Financial Context
The New School operates with a budget that is set largely based on tuition and other student-generated revenue. Year-over-year, at best, the university's budget breaks even; in recent years, we have faced significant financial pressures exacerbated by the pandemic, which created a $130 million revenue shortfall. Given these constraints, we made concerted efforts over the last couple of years to reduce administrative costs and focus resources on teaching, learning, research, and creative practice.
The Facts on Administrative Spending
There's been a lot of misinformation concerning the university's spending on administrative costs. For example, claims that the university spends 2.2 times the national average on administration are misleading because they compare The New School to large-sized public institutions (the university is a medium-sized private institution) and cite the incorrect category of data from the university's audited financial statements. The truth is that proportionally The New School spends 30% less on institutional support compared to similarly-sized, private institutions. I encourage you to read the Fact Check on The New School's Spending for more information.
The Current Contract Proposal
The President, Provost, and I feel strongly about making sure the university is on the path to a fairer, more equitable, and respectful agreement with our part-time faculty colleagues. This week, our part-time faculty, represented by ACT-UAW Local 7902, will have a chance to consider and vote on a comprehensive proposal put forward by the university. This proposal offers an average increase of 20% in total compensation in academic year 2022-2023, including a one-time bonus and 7% wage increase for part-time faculty. Our proposal also increases access to a generous, university-subsidized health plan, with no co-insurance requirement. Full-time faculty and staff taking advantage of the same plan pay 10% co-insurance. Please read this summary for more information about how the university's proposal delivers for part-time faculty and addresses many of the concerns raised during these negotiations. There is a tremendous amount of work that needs to be done together to address very real and serious institution-wide issues and put the university on a new path, but getting to an agreement with the part-time faculty union is an urgent and crucial first step that will allow us to move forward.
Diving Deeper into the Proposals: Financials
I'll offer a few comments to help with understanding the financials of the current contract proposal as compared to the union's latest proposal. The union's latest proposal on compensation and benefits alone (not including the union's other economic demands) would cost the university an estimated $683 million over a five-year contract, an average of $136 million per year. A more comprehensive explanation of the union's compensation proposals can be found here. With a total university annual operating budget of approximately $460 million for Fiscal Year 2023, the union's demands would represent one-third of the total operating budget, leaving us with no areas where we can reasonably cut costs, and still meet the union's demands.
As President McBride noted in his message on Monday, our proposal represents a significant financial stretch for our university. In fact, it will create a budget deficit of approximately $60 million over the next five years. While we believe that we could balance that deficit over the next several years by implementing difficult cost cutting measures, it simply would not be possible for the university to absorb the estimated five-year, cumulative $360+ million budget deficit that the union's current compensation and benefits demands would represent. To put this in context, in our most current financial statements, the value of the university's endowment is $420 million. Funding the estimated $360 million budget deficit from the union's current economic demands would potentially require the depletion of over 86% of the university's endowment. Even if the university wanted to do this, it would not be possible, due to legal restrictions and requirements placed by those who donated many of these funds.
To illustrate this clearly, here is a graphic representation of the estimated financial cost of each of the contract proposals: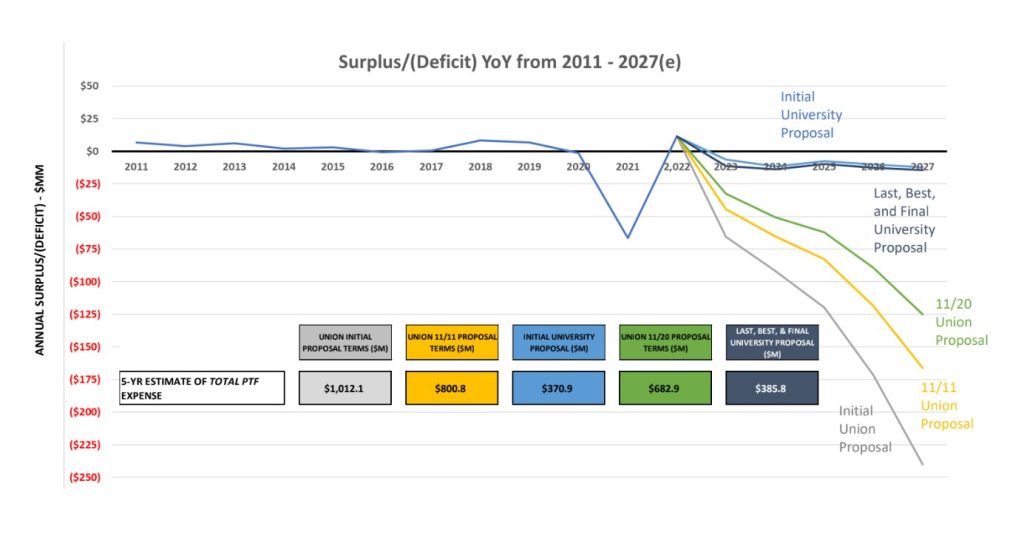 As Provost White said in her message last night, our university is at a crossroads. How does a progressive university reconcile its role as an employer and as a place of learning and opportunity for students? It is my aspiration for this institution to be known as a great place to work, in addition to the draw of our mission and the education the university provides to students and the world. I know we have much to do to realize this potential, and I look forward to working together to do so.
I urge union members to read and carefully consider the university's proposal before voting and to visit our website for important information and updates. I also encourage all of our community members to review these informative sources. I will also be participating in the upcoming informational forums to delve more deeply into the university's finances.