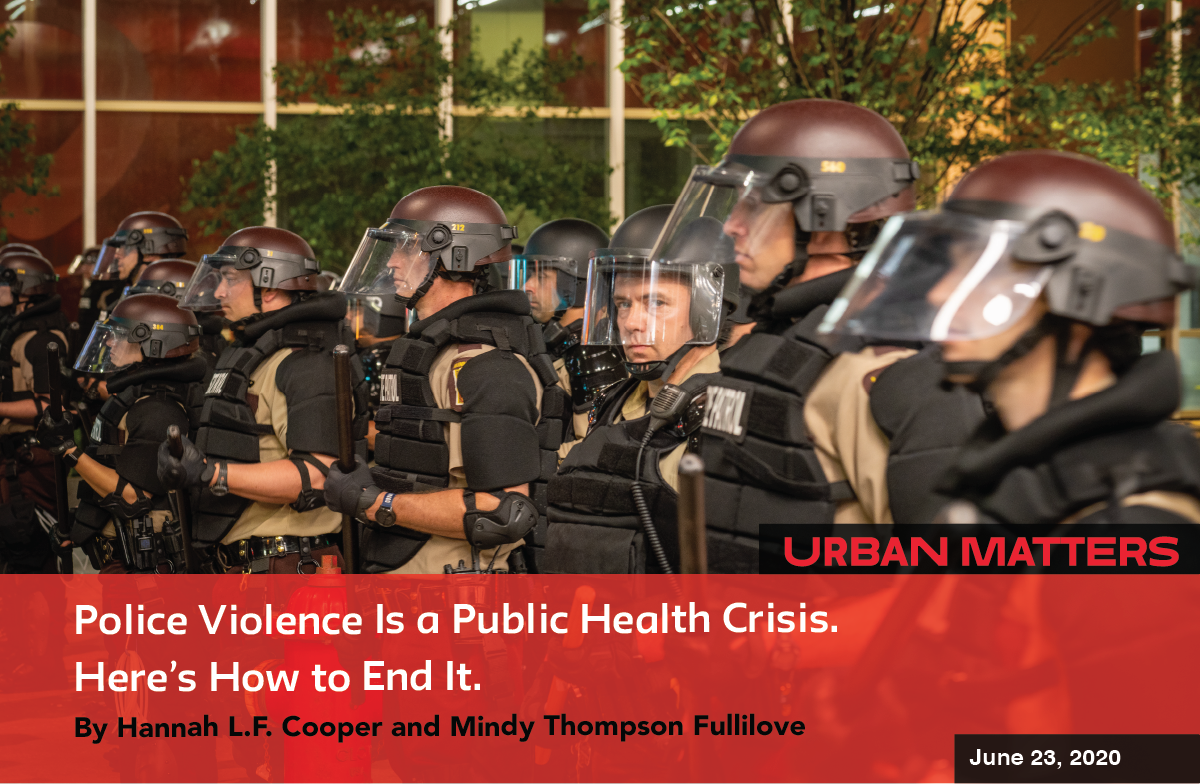 Police Violence Is a Public Health Crisis. Here's How to End It.
Excessive police violence has become an inescapable reality in the United States. Some of us have learned to scan the sidewalks and streets for officers from the moment we lock our door behind us to the moment we reach our destination. Some of us breathe a sigh of relief when friends and family make it home, unharmed by police. All of us have witnessed on our screens, frame by frame, day after day, the horrors of police killings of civilians who offered little or no threat to them. These horrors have been compounded by the repeated judicial exoneration of the police. One innocent pedestrian looking over his shoulder, one sigh of relief, perhaps even one unprovoked police killing, might be an acceptable "trade off" for a safe society. When whole communities are terrorized, and thousands of people – disproportionately Black men – are killed by police without cause and without legal consequence for the perpetrators, we must question what our policing is all about….

Distorted policing places burdens of excess morbidity and mortality on marginalized communities. It also creates alienation and terror that shake the foundational unity of our society. A "two-faced government" – with one aspect for the rich and another for the poor – is as much an oxymoron as a "two-faced friend." The serious effects on the nation's health are what bring public health scholars, like ourselves, to the conversation about next steps.

Examining the problem from the perspective of public health, we argue that there is a deeply engrained "toxic triad" of marginalization, distorted policing, and violence. This toxic triad is a very stable, pathological social system that will not yield to a "magic bullet," a single intervention of some kind, like implicit bias training or the establishment of the civilian review board. There is, however, a way forward that can work.

Rodrick and Deborah Wallace, pre-eminent human ecologists, have observed that there are no magic bullets that will solve complex problems, but there are "magic strategies" [that] address the problem at multiple levels of scale and in multiple systems. They have enabled us to combat the power of the tobacco market, and protect the public from the effects of smoking. They have helped us contain the harms of complex parasites that attack millions of people a year. It is through the development of such a magic strategy that we can shift from distorted policing to "public safety policing," which is the name we are giving guardianship policing for all…

We classify policing as a key social determinant of population health and disease. We argue that policing power fully affects "the conditions in which people are born, grow, live, work and age." This paradigm asks us to consider the extent to which the nature of policing varies according to whether communities are inside or outside the state's protective circle. [It] demands that we consider the extent to which policing creates inequities in experiences of violence and in other health outcomes. It asks that our analysis extend beyond policing to recognize that policing itself is a product of broader social forces….

For the most part, policing is problematic, not because of isolated decisions made by "bad apples," but because of decisions made at much higher levels of the government and social system. These decisions are made to enforce the goals of the powerful, for example, to keep people in slavery, or take land from indigenous people. Such actions violate basic human rights. They also endanger society by dividing us from one another and impeding our decision-making. The solution lies only partly among the police officers: although they can choose a path to making public safety real for all, due to pressures from above they have difficulty staying on that path. The larger part of the solution is our collective vision for the kind of society we want to have.

The field of public health's expertise, workforce, and commitment can help to shift us from distorted, two-faced policing to guardianship for all. One contribution is public health's ability to name and frame a problem, using the tools of human and urban ecology, quantitative epidemiology, and qualitative methods. Another contribution is our deepening commitment to fight structural violence to ensure health for all. A third contribution is our experience with extremely complex situations.

We often find that the pieces of a magic strategy that seem most costly and most difficult to achieve are the very pieces that solve many problems and create a foundation for a great leap forward in the society's functioning. Synergies can be a very important part of this process. For example, the US Task on Community Preventive Services has recommended nurse home visitation, an intervention in which nurses visit newborns and their families, to ensure vaccination. But nurse home visitation also turns out to prevent domestic violence, improve school readiness, and support infant nutrition. This simple intervention ensures that the first phase of early child development unfolds in the best possible manner. While nurse home visitation might be marginally cost effective – or even expensive – when taking one of these outcomes into account, by the time all of the improvements in child welfare and family functioning are added together, the intervention saves society money and prepares children for a lifetime of productivity. It takes imagination and practice to see how this works, but this is the great promise of magic strategies and why it is worthwhile to break out of silos.

To move away from distorted policing, the magic strategy we propose addresses three major areas: preparing police forces to end distorted practices and enact public safety for all people, thus bringing everyone into the protected circle of guardianship; protecting civil rights and the Constitution; and overcoming the resource deprivation of marginalization. Like the investment in nurse home visitation, the price tag may seem high, but we will solve so many problems at one time that the results will amaze us….

Police officers perform many essential services, and these are desired by the citizenry. A large majority wants our society to feel healthy and united. We are for policing that advances these goals. In this book, we have named this guardianship. Based on the data we have reviewed, we suggest that the quest to implement the guardianship model has a number of components.

First, it is essential that we have fair laws. Second, once we have fair laws, it is essential that all people who break laws face the same punishments. We must have protections so that poor and marginalized people are not subjected to a harsher system of justice than what the rich and the police experience. Third, everyone should understand what guardianship is so that the police will have the support of the society. Finally, police should be applauded for the acts of heroism and everyday helpfulness they enact.
---
Excerpted the permission of the authors and their publisher from Enforcers to Guardians: A Public Health Primer on Ending Police Violence by Hannah L. F. Cooper, ScD, and Mindy Thompson Fullilove, MD. Copyright Johns Hopkins University Press, 2020.
The authors and publisher have made this book available for free download on Project Muse.
---
Hannah L.F. Cooper is a professor and vice-chair in the Department of Behavioral Sciences and Health Education at the Rollins School of Public Health at Emory University.
Mindy Thompson Fullilove is a professor Urban Policy and Health at the Milano School of Policy, Management, and Environment at The New School.

Photo by Chad Davis.