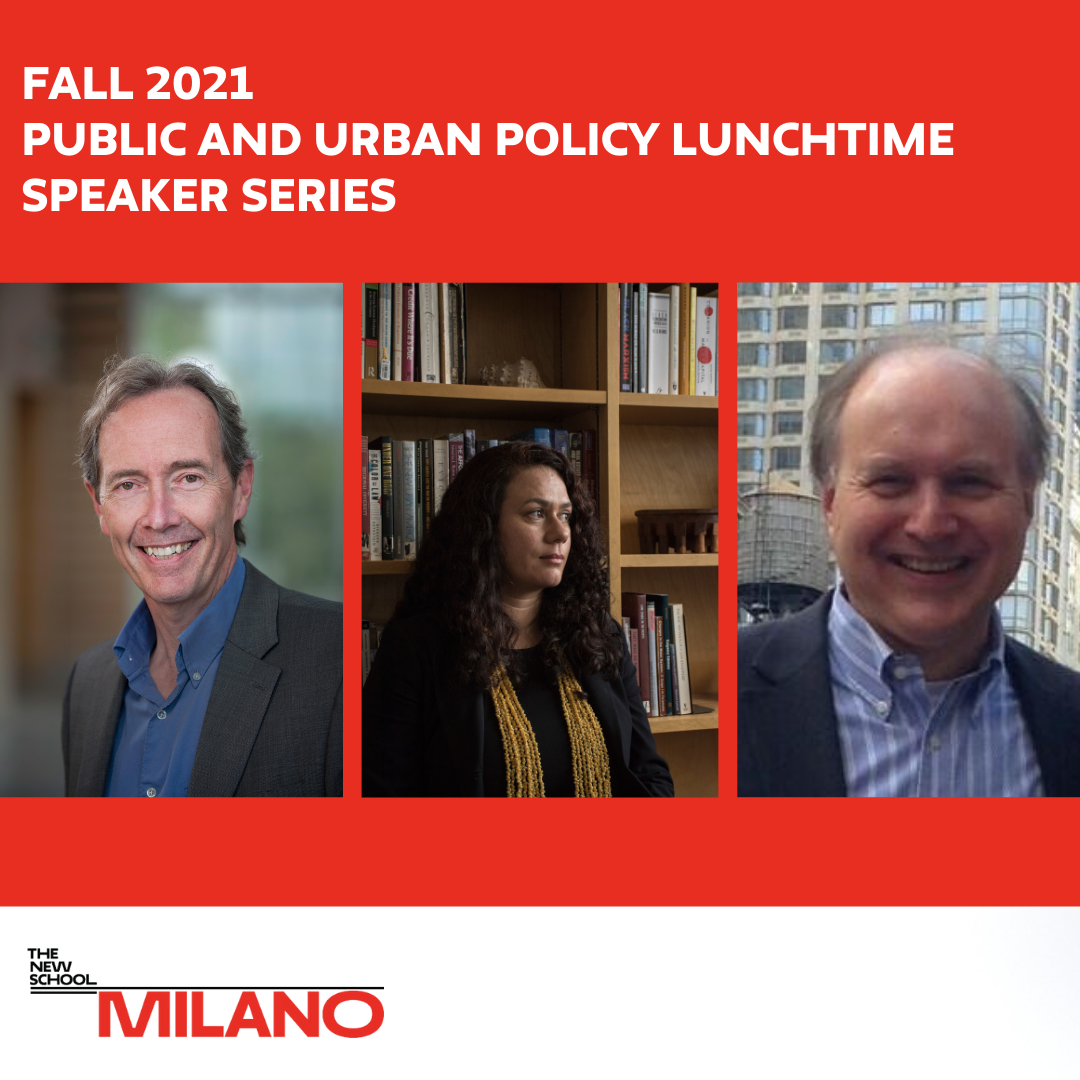 Fall 2021 Public and Urban Policy Lunchtime Speaker Series Event Recordings
The Public and Urban Policy Program hosted three events in the Fall 2021 Public and Urban Policy Lunchtime Speaker Series. The events were moderated by Alex Schwartz, Chair of the MS Public & Urban Policy Program. Recordings are available below.
October 6, 2021
A 50-Year Old Promise: Urban Redevelopment, Displacement, and Neighborhood Change on the Lower East Side with Edward G. Goetz | [Recording]
This talk looks at the Essex Crossing development on the Lower East Side of Manhattan in the context of 50 years of change in that neighborhood and in the City of New York more generally. The Essex Crossing site is an important location for understanding the trajectory of housing policy and the changes in American cities over the past half-century. It was the subject of an influential fair housing case (Otero v.  NYCHA, 1973) that established expectations for achieving neighborhood integration. It sat undeveloped for 50 years as advocates attempted to get affordable housing built over the objections of nearby residents, and as the Lower East Side changed around it. It is where the City is now making good on its promise to relocate displaced residents back to the site.
November 3, 2021
Racialized Geographies of Housing Financialization with Elora Lee Raymond |  [Recording]
In this talk, Elora Lee Raymond argues that theories of racial capitalism provide necessary scaffolding for understanding housing financialization, and the black radical tradition offers a path toward theorizing housing justice in relation to financialization. Everywhere we look today, we find extended circuits of financial processes, instruments, and intermediaries implicated in the reconfiguration of housing development, acquisition, ownership, and management to render immovable, local property into liquid, global capital. Despite these developments, the central insight of racial capitalism – that racism and capitalism are fundamentally intertwined  – has not been thoroughly developed in relation to financialization.  Racial division and subordination have always been necessary to producing value in real estate; financialization materially reproduces racial capitalism by reconfiguring the abstraction of racism from systems of individual bias and racialized bodies into automated systems. Note: this talk is based on a forthcoming article in Progress in Human Geography co-authored with Desiree Fields of the University of California-Berkeley.
December 1, 2021
NYC's Covid-19 Unemployment Crisis: A Monumental Local Economic Policy Failure with James A. Parrott| [Recording]
In this talk, James A. Parrott argues that the pandemic's economic and labor market impacts in NYC have been extremely lopsided and far more pronounced here than in the rest of the country. Lower-income communities and workers of color have borne the brunt of dislocation. For the most part, the local and state economic policy response has fallen short in the face of a looming unemployment crisis.