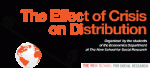 Economic Impacts the Effect of Crisis on Distribution
On Friday, March 5, from 9:00 a.m. to 8:00 p.m., the Economic Student Union hosts a conference on the effects of downturns, depressions, and the past and current economic crises on distribution.
Participants include: Michael Hudson, professor, University of Missouri-Kansas City; Peter Skott, professor, University of Massachusetts-Amherst; Dean Baker, co-director, Center for Economic and Policy Research; Korkut Ertürk, professor, University of Utah; Ilene Grabel, professor, University of Denver; Branko Milanovic, lead economist, World Bank Inequality Research Group; Jose Antonio Ocampo, professor, Professional Practice of International and Public Affairs at Columbia University; Thomas Palley, economist; Richard Wolff, professor, University of Massachusetts-Amherst; Edward Wolff, professor, New York University; and Ajit Zacharias, senior scholar, Levy Institute.
This free event, sponsored by the Department of Economics at The New School for Social Research and the Schwartz Center for Economic Policy Analysis will be held in 6 East 16th Street, rooms 906 and 913 as well as Wollman Hall, 65 West 11th Street, 5th floor. For the full schedule visit www.newschool.edu/cepa/conferences/.