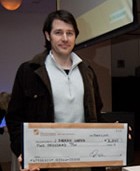 The Incredible Lightness of Parsons SCE Students Sweep 2010 NYC Student Lighting Competition
Students in the Master of Fine Arts in Lighting Design and Master of Architecture programs at the School of Constructed Environments at Parsons received high honors in the Illuminating Engineering Society's 2010 NYC Student Lighting Competition. J. Parkman Carter was awarded first place; Megan Pfeffer, third place; and Gabriella Grullan received honorable mention for the use of materials in her project.
Under the guidance of Parsons faculty members Nelson Jenkins and Matthew Tanteri, these students developed three-dimensional, abstract lighting compositions. Inspired by the theme Liminal Luminosity, students interpreted the numerous ways light facilitates, defines, or bridges a point of transition, while exploring the spatial, psychological, physiological, and temporal realms of their chosen concepts.
Carter, who is receiving a dual graduate degree in lighting design and architecture, titled his project Edge: Problems and Promise, inspired by ecological, geopolitical and spiritual boundaries. Carter visually shows that simple edges demarcate everything that we encounter in our lives: the human body, thresholds, buildings, and the horizon.
Pfeffer, a student in the lighting design program, titled her project Liminally Enlightened, which explores British cultural anthropologist Victor Turner's psychological theories on luminality. The installation takes viewers through the steps of liminal enlightenment by providing a false, space in the reflections of the light that seems to continue forever.
Grullan, who also is in the MFA Lighting Design program, titled her project Liminal Datum. Here, a transparent structure allows viewers to observe the relationship between light and materials, in this case soft paper that captures the quality of light along its natural gradient.