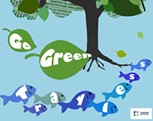 Trayless Tuesdays Parsons Helps Public Schools Kick the Styrofoam Habit
Last Tuesday, Parsons students saw their ideas become a reality when New York City Schools Chancellor Joel I. Klein and the Department of Education's Office of SchoolFood (DOE) launched Trayless Tuesdays. This initiative stemmed from a partnership between Parsons, the grassroots organization Styrofoam Out of Schools (SOSnyc) and the DOE to reduce the use of Styrofoam trays in City public schools and replace them with biodegradable containers to reduce landfill waste.
The collaboration began last spring, when first-year Parsons students, led by faculty member and SOSnyc founder Debby Lee Cohen, created an installation for their year-end exhibition out of 1,000 used trays from public school cafeterias to raise awareness of this issue. Last summer, faculty member Jessica Corr and another group of students worked on site at PS 19 in Manhattan, where they interviewed students about creative ways to reduce waste from styrofoam trays. It is through this effort that students proposed the idea of Trayless Tuesdays. In addition, Parsons students designed a poster campaign that is used in school cafeterias to build awareness of this pilot program.
The opportunity to work directly with public school students on important environmental issues was very exciting for our students,, said Corr. This project is part of our larger mission to empower public school students through design to make change in their communities.,
Each Tuesday, polystyrene lunch trays in all city schools will be replaced with containers made of paper with a clay-based lining. Beginning April 13, schools will also begin using paper containers to serve breakfast. The DOE serves 623,039 lunches and 205,317 breakfasts daily.
This program will help make our schools more environmentally responsible, while also sending a powerful lesson to students about the importance of sustainability,, Chancellor Klein said. Students will see first-hand that if they each make small changes in their daily lives, those efforts can add up to make a big difference for the future of our City and our planet.,
As part of this ongoing partnership, earlier this month Corr and Cohen brought a group of Foundation students to the Green School, a public school in Manhattan, where they worked with public school students to develop prototype containers. These activities are being organized by the Research, Education, Arts and Design Lab at the School of Design Strategies at Parsons, co-founded by Corr.