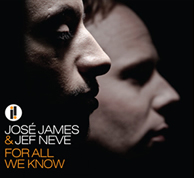 Capturing the Moment Jazz Staff Member Signs with Impulse!
Vocalist Jose James, a New School Jazz staff member and former student has been signed by Impulse! Records, recording home of John and Alice Coltrane.
James' first album for the label is For All We Know, collaboration with noted Belgian pianist Jef Neve. "This record is all about capturing the moment," James says. All but one of the album's ten songs were recorded in a single informal six-hour session at Galaxy Studios in Mol, Belgium. The project came together spontaneously, after James and Neve performed together on a Belgian television show and Neve filled in for James' regular pianist at a concert in Brussels.
It felt like we'd been playing together forever," James recalls. I had the next day off, so I said 'Let's go in the studio and try to capture some of this vibe.' Jef booked this really nice studio, we let the tape roll, and that's the album. There was no producer, no overdubs, and most of the songs were first takes.
The result of this session is vivid performances of such classics as Tenderly, Body and Soul, Billy Strayhorn's Lush Life, and George and Ira Gershwin's Embraceable You.