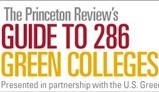 Green with Princeton Review Puts The New School at the Top
The New School has been named one of the country's most environmentally responsible colleges in The Princeton Review's Guide to 286 Green Colleges.
"The New School's students, faculty, and administration share a commitment towards creating a more sustainable university,, said David Eisenhauer, sustainability coordinator, Facilities Management.
This complete institutional buy-in allows the university to create innovative and dynamic sustainability programs. So it comes as no surprise to see the Princeton Review recognize us one of the top 'Green Colleges.' The New School community has proven that it values operating in an environmentally and socially responsible manner, guaranteeing that The New School will continue to be a leader in this area."
Developed in partnership with the United States Green Building Council (USGBC), the guide is based on a survey of hundreds of colleges nationwide and is the first free comprehensive book focused on institutions of higher education that have demonstrated an above average commitment to sustainability in terms of campus infrastructure, activities, and initiatives.
From solar panel study rooms to the percentage of budget spent on local/organic food, the new guide looks at an institution's commitment to using USGBC's Leadership in Energy and Environmental Design (LEED) green building certification program when launching new capital building projects.
The free guide can be downloaded at www.princetonreview.com/greenguide and www.usgbc.org/campus.