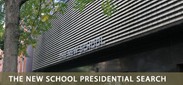 Stay Up to Date on The New School's Future the Presidential Search is Online
The search for The New School's eighth president is everyone's business. The search committee, comprised of Board members, students, faculty, and administrative staff, has established a website, www.newschool.edu/presidentialsearch, designed to deliver updates about the progress of the search and serve as a conduit for nominations and comments. The website also features background information about the university, a description of the president's responsibilities, and details of The New School's growth over the last decade.
Please visit the Presidential Search website and become informed about the search for someone to lead The New School and chart a course for our future.