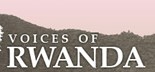 Voices of Rwanda: Genocide Through the Eyes of Survivors
In April 1994, genocide broke out in Rwanda. Over the course of 100 days, an estimated 800,000 people were brutally killed by their neighbors with the implicit permission of passive world leaders and the international community. Today, survivors, bystanders, rescuers, and perpetrators are all searching for ways to live with one another and with their difficult past.
On Tuesday, April 27, at 6:00 p.m., in Wollman Hall, 65 West 11th Street, 5th floor, Voice of Rwanda, a film showing testimony of survivors of the Rwandan genocide will be screened followed by a discussion led by Taylor Krauss, founding director of Voices of Rwanda, an organization, which records and preserves testimonies of Rwandans.
This free event is organized by Global Studies, the Transregional Center for Democratic Studies, and the NSSR Interdisciplinary Memory Group.