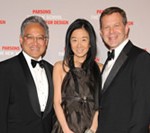 Fashion Stars Shine on Parsons Benefit
Last Monday, the Parsons Fashion Benefit brought out some of the leading names in the fashion industry to raise $1.2 million for scholarships and academic programs. The event, held at Pier Sixty, Chelsea Piers, honored Dr. William K. Fung, group managing director of Li & Fung Limited, and Vera Wang, celebrated designer, both prestigious visionaries who have made significant contributions to the industry.
At the benefit, New School President Bob Kerrey announced that LF USA, part of Li & Fung Limited, had donated $250,000 to Parsons to establish two new scholarships: the LF USA Kathy Van Zeeland Scholarship to support fashion students with a focus on accessories; and the LF USA Parsons Scholars to provide support to low-income students from local public schools to attend Parsons three-year college preparation program.
At the event, Rick Darling, president of LF USA, presented Dr. Fung with his award, while Candy Pratts Price, executive fashion director of Style.com, awarded Ms. Wang her honor. Among this year's guests were notable Parsons alumni designers Chris Benz, Tracy Reese, Jason Wu, Lisa Mayock of Vena Cava, and Behnaz Sarafpour.
Following the fashion show of top student collections, Parsons alumna and Board of Governors member Kay Unger announced the 2010 Designers of the Year: for Womenswear, Niloufar Mozafari, 22, of Houston, TX, whose collection explored the concepts of memory and origin; for Menswear, Dylan Taverner, 22, of Bridgeport, CT, whose collection is inspired by "the futility of nostalgia"; and for Childrenswear, Susan Kay, 21, of Piedmont, CA, whose collection was inspired by the John Hughes film Weird Science.
The Fashion Benefit is the first of many events that will celebrate Parsons 2010 fashion graduates. From May 12-29, Saks Fifth Avenue will feature pieces from students' collections in the windows of their flagship store, and starting June 15, the Nolita boutique Debut will be featuring select collections for sale to the public.