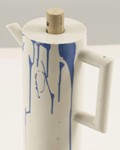 Interpreting Flow Parsons Featured in ICFF Student Exhibition
Parsons The New School for Design presents FLOW, a special exhibition of product design student work, at this year's International Contemporary Furniture Fair (ICFF). The exhibition, on view May 15-18 at the Jacob K. Javits Convention Center, features a juried group of student designs that explore the theme of flow, including the 2010 I.D. Design Review award-winning ceramic pitcher OTO Sound & Life by Parsons student Chika Nakayama. A party celebrating the students' participation in the ICFF will be held on Friday, May 14 from 7:00 p.m. to 12:00 a.m. in the David M. Fashion Education Center at Parsons to coincide with the BFA Product Design Thesis Exhibition.
We are thrilled to be participating in the ICFF, the premier showcase for cutting-edge design,, said Robert Kirkbride, director of the BFA Product Design program at Parsons. Using the concept of 'flow' as a starting point, our students created objects that are beautiful, functional, and conceptually challenging.,
A central feature of the installation is three mobile Watertables, convertible dining and worktables, designed and constructed by Parsons students for a special water-themed dinner and 24-hour design slam last fall. In keeping with their sustainable nature, the watertables serve a dual purpose at the exhibitionâ€, acting as both individual pieces and support structures for the display of other Parsons projects, which range from furniture to medical devices and highlight the numerous interpretations of flow.
For more information, please visit www.newschool.edu/parsons/thesis.