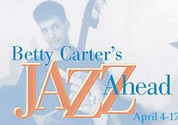 Jazz Ahead In DC New School Students Chosen for Kennedy Center Residency
This year's annual Betty Carter's Jazz Ahead program, a national jazz residency for emerging artists at the John F. Kennedy Center for the Performing Arts, included two New School students' guitarist Michael Valeanu and bassist Or Bareket.
Twenty-nine applicants from across the globe were selected by an audition application that considered both composition and performance skills. Valeanu who comes from France and Baraket who comes from Israel joined students from Austria, Brazil, England, China, Greece, Japan, and Singapore for this prestigious residency.
For two weeks these artists engaged in intense training in performance, composing, and arranging under the center's Artistic Director for Jazz Dr. Billy Taylor. The 2010 graduates performed three free concerts of original compositions on the Millennium Stage at Kennedy Center in March. Those performances will be broadcast at http://kennedy-center.org/millenium.