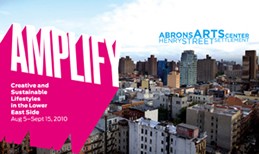 Modeling Communities: AMPLIFY Outlines Sustainable Future
Students of sustainable development and urban issues should not miss AMPLIFY: Creative and Sustainable Lifestyles in the Lower East Side, an exhibition of sustainable community design in downtown New York, opening August 5 at Abrons Art Center, 466 Grand Street. AMPLIFY highlights recent research conducted by The New School's Design for Social Innovation and Research Lab (DESIS Lab), the American branch of the international service design network, lead by Parsons The New School for Design and Milano The New School for Management and Urban Policy. Focusing on initiatives including innovative neighborhood gardens, the exhibition proposes a dialogue about creating a sustainable future.
AMPLIFY is the culmination of the first year of DESIS Lab's Amplifying Creative Communities, an ongoing project which aims to develop creative, sustainable lifestyles by strengthening the grassroots activities that exist within New York City neighborhoods. The project is led by Lara Penin, assistant professor, School of Design Strategies. According to Penin, the scope of the exhibition extends far beyond the Lower East Side: Creative communities like those on the Lower East Side can change how cities operate, modeling grassroots action that spurs sustainable, community-based exchange.,
AMPLIFY is on view August 5-September 15, 2010 Opening Reception: August 5, 6:00-8:00 p.m. For more information visit http://amplifyingcreativecommunities.net/.