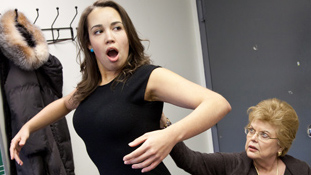 From Arias to Etudes: Mannes' Ruth Falcon Reflects on 20 Years of Teaching
In 1991, when Charles Kauffman, then president of Mannes College, asked Ruth Falcon to join the school's new Voice department, she was somewhat hesitant. A successful performer who had appeared at the Bayerische Staatsoper, the Metropolitan Opera, Covent Garden, and the Vienna Staatsoper and with companies in Paris, Hamburg, and Berlin, Falcon was concerned that teaching would cut into her performance schedule. But motivated by a desire to stay closer to her New York home, she decided to give it a try.
Twenty years later, Ruth Falcon is still going strong as a voice instructor at Mannes.
Falcon's commitment to teaching was cemented at the very start of her tenure at Mannes when she began working with her first student, Deborah Voigt. Under Falcon's tutelage, Voigt developed into one of the world's great dramatic sopranos.
It was really fun, because she was so gifted,, Falcon says of Voigt. In fact, it was nearly like working with myself, although she was a young singer, her voice had the same weight that mine did in my maturity.,
Falcon's reputation as a teacher and her record of success with Voigt have made her a sought-after mentor for up-and-coming sopranos, particularly those who, like Voigt, boast big, dramatic voices. Falcon's students have gone on to sing with the world's greatest opera companies, from the Metropolitan Opera to Covent Garden to the Lyric Opera of Chicago. Falcon has helped to establish the Voice department at Mannes as the foundry of opera's next generation of influential singers.
I teach students at all different stages of development. I love teaching advanced students, but I also love teaching babies,, she says. The unifying quality is their sincere desire to work and fully develop their talent. I'm in there with them.,
As a teacher and performer, Falcon has witnessed three decades of transformation in the field. She notes that the opera world is increasingly spotlighting young performers, failing to allow big voices the time they need to grow and develop. However, this focus on youth has a bright side, too. It means there are more opportunities for young singers,, she says. In addition, here in America there are many more foundations, competitions, and organizations supporting opera than there were even 30 years ago.,
Although Falcon no longer performs professionally, she sings nearly every day with her students. And sometimes the urge to wow an audience proves irresistible, even if it is just an audience of one: "When I really want to impress a student and make them listen to me, I let out a big high note."
But two decades after joining Mannes, Falcon's heart is still in teaching, exemplifying the deep commitment to cultivating artistic achievement that is a touchstone of The New School. Falcon says that her passion is now to help my young singers make the transition from promising student to professional singer.,
To hear Falcon sing, click below for a clip of her performing "Pace mio Dio" from Verdi's Forza del Destino.
[audio:http://blogs.newschool.edu/news/files/2011/02/Falcon.mp3|titles="Pace mio Dio" from Verdi's Forza del Destino|artists=Ruth Falcon|width=100%]