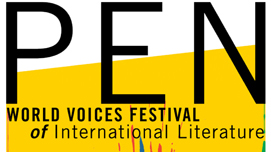 The New School for Drama to Host the Seventh Annual PEN World Voices of International Literature

The New School for Drama will host two events for the upcoming 2011 PEN World Voices Festival. More than 100 writers from 40 nations will convene in New York City from April 25 ' May 1 to celebrate the power of the writer's voice as a bold and vital element of public discourse as they view the world from a fresh perspective at stages across the city. The program features panel discussions, one-on-one conversations, readings, performances, and much more.
Events at The New School for Drama include:
"Loneliness and Community"
Thursday, April 28 at 7:00 p.m.
The New School for Drama Theater, 151 Bank Street, 3rd Floor.
Admission: Free
In the morning's stillness or the evening's hush, a writer's voice emerges. But every scribe knows that creativity thrives when in the company of others. Join three renowned writers Lewis Hyde, Annesdatter Skomsvold, and Shin Kyung-Sook for readings and conversation on how to negotiate between the requirement for isolation and the dueling hunger for conscious contact with a community. Curated by Joshua Wolf Shenk.
"Education, Knowledge, Learning"
Saturday, April 30 at 3:00 p.m.
The New School for Drama Theater, 151 Bank Street, 3rd Floor.
Admission: $10; Free for students with valid ID.
What does it mean to be an educated person? What kind of education do our children deserve, and how can we insure that our youths develop into intelligent, responsible and compassionate adult citizens of the world? Spend an afternoon with literary luminaries as they ponder how the American educational system measures up against the rest of the world, how flaws in our system imperil our nation's future and what we can learn from our international counterparts? Particpants include Tomas Espedal, Esther Klein Friedman, Juan Carlos Mestre, Gunnhild √òyehaug, and Shanley Rhodes. Moderated by Eric Pliner.
PEN American Center is the U.S. branch of the world's oldest international literary and human rights organization. International PEN was founded in 1921 in direct response to the ethnic and national divisions that contributed to the First World War. PEN American Center was founded in 1922 and is the largest of the 144 PEN centers in 101 countries that together compose International PEN. Throughout its 85-year history, PEN American Center has remained a writer-centered organization in which members play a leading role. PEN presidents, such as Arthur Miller, Norman Mailer, Susan Sontag, and Salman Rushdie have, and continue to place themselves at the forefront of the struggle to oppose censorship and defend writers.
For more information, a full schedule of events, and to purchase tickets, please visit http://www.pen.org/page.php/prmID/1096.