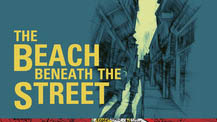 Wark's New Book Revisits Situationist International

McKenzie Wark, associate professor and chair of Culture and Media at Eugene Lang College The New School for Liberal Arts, recently released his new book, The Beach Beneath the Street: The Everyday Life and Glorious Times of the Situationist International. Widely known as author of A Hacker Manifesto and Gamer Theory, Wark is a respected cultural critic and new media scholar.
The Beach Beneath the Street explores the history and legacy of the 20th century revolutionary organization Situationist International, from its mid-century bohemian beginnings to its role in the Paris uprising of 1968. For more information, visit the Verso Books website.