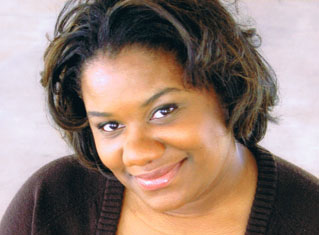 Drama Alumni Stars in New Play at La Jolla Playhouse

New School for Drama alum Adrienne Moore '09 will be spending her summer out west in rehearsals and performance of the world premiere of Kirsten Greenridge's Milk Like Sugar with the prestigious La Jolla Playhouse. The production, directed by Rebecca Taichman, opens August 30 and continues until September 25, and will have its New York Premiere at Playwright's Horizons, October 13 through November 20.
I met [casting director] Alaine Alldaffer at a workshop last year,, says Adrienne as she describes how she got the job. She invited me to be an audition reader for some of the shows she was casting, and she introduced me to the folks over at Telsey + Company for the 'Milk Like Sugar' auditions., Adrienne was called in to audition and, as she puts it, the rest is history., She flies to La Jolla the end of the July and will earn her Equity card for her work. Words cannot explain my excitement on his project; I wish I didn't have to wait so long, I wish I could honestly leave tomorrow!,
The play tells the story of 16-year old Annie and her friends and how being stuck in a dead-end town hasn't diminished their dreams. But when they decide to create their own future by entering into a life-changing pact together, Annie begins to question what she really wants. The play explores the challenges of choosing between the safety of the life you know and the danger of the life you desire.
The great thing that Drama gave me was the confidence to believe that I had the skills and talent to be a professional artist,, Adrienne remarks. To trust myself, to trust my instincts, these are the things that I will always remember [faculty members] Ron Leibman, Marcia Haufrecht and Robert Walden telling me.,