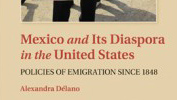 How Does Mexico Deal With Its Migration?
On September 27, 2011 at 6:00 p.m. Global Studies hosts a panel discussion to celebrate the publication of Mexico and Its Diaspora in the United States: Policies of Emigration Since 1848, a new book by assistant professor of global studies Alexandra Delano.
A distinguished panel will explore relationships between the United States, Mexico, and Mexican immigrants to the United States and the influence of policy on transnational activism.
Joining Professor Delano are Arturo Sarukhan, Mexican ambassador to the United States; Robert C. Smith, professor at the School of Public Affairs, Baruch College, CUNY; and Jesús Pérez, a member of the Advisory Council to the Institute of Mexicans Abroad.
The event is sponsored by the Global Studies Department and the International Center for Migration, Ethnicity and Citizenship at The New School. It will take place in the Orozco Room, Alvin Johnson/J. M. Kaplan Hall, 66 West 12th Street, 7th floor, and is free, but reservations are required by emailing globalstudies@newschool.edu.