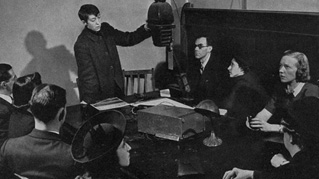 Faculty Firsts: Disciplinary Pioneers at The New School
Since its founding, The New School has been a place of firsts: In the early 20th century, scholars and artists whose work stood outside the bounds of traditional academia joined the university's faculty and established some of the country's first courses in photography, modern dance, fashion design, modern art, interior design, modern music, and graphic design. One hundred years later, The New School continues to provide a home for new fields of study. Two of our newest master's degree programs, Transdisciplinary Design and Design and Urban Ecologies, are found only at The New School.
Key to charting a course for a first-time discipline are faculty champions for these new fields. In 1927, Paul Rosenfeld, a New School faculty member considered to be the one of the original American music critics, enlisted Aaron Copland to take over his lectures on modern music. At that time, Copland was a promising young composer without a steady income. Teaching at The New School provided him with a space to work on his compositions, and gave him an opportunity to present his ideas in the form of lectures from his New School course Symphonic Masterpieces. These were published in book form under the title What to Listen for in Music (1939). When Copland started teaching in 1927, he and Roger Sessions, a fellow composer and New School faculty member, coordinated the Copland-Sessions concert series, partially comprised of their music and also the music of Virgil Thompson, Roy Harris, and Walter Piston. This series brought recognition to these future major composers.
In 1934, Berenice Abbott offered New School students one of the first photography courses given at a university. Abbott had studied art and photography in Paris and Berlin from 1921 to 1929. During that time Man Ray hired her as his assistant and, taking notice of her darkroom work, gave her access to his studio to enable her to take her own photographs. When she returned to New York, the city was experiencing a building boom, adding numerous skyscrapers that dramatically transformed its skyline. Abbott had originally planned a short visit but, intrigued by the contrasts between the older New York and the new one growing up around and on top of it, decided to stay. She began teaching at The New School and documenting the architectural landscape. Her books Changing New York (1939) and Greenwich Village Today and Yesterday (1949) are the results. Abbott continued to teach photography courses at The New School until 1958, expanding her curriculum through the years to include Advanced Photography Workshop and Advanced Photography Techniques.
John Cage first came to The New School in 1933 to study with composer and critic Henry Cowell. He left a year later to continue his education with Arnold Schoenberg but returned in 1950 at Cowell's invitation. For the next six years, he took part in academic discussions and performances. Cage became a member of the faculty in 1956 and taught five courses during the next four years. He taught his first course, Composition, later renamed Experimental Composition, throughout his New School career. Cage's other courses were Virgil Thompson: The Evolution of a Composer, Erik Satie: The Evolution of a Composer, Advanced Composition, and, finally, a course well outside the realm of music: Mushroom Identification, which reflected Cage's personal interest in mycology, the study of fungi.
In the coming semesters, The New School will offer several new programs initiated by faculty following in the tradition of Copland, Abbott, and Cage. Who knows which of the university's newest areas of study'Environmental Policy, Design Studies, or Leadership and Change Management, among others'will become mainstays of academic study, and which faculty members will become legends for introducing them?