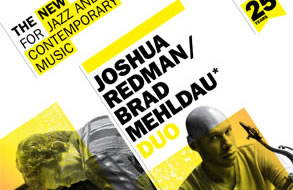 Jazz Celebrates Its Silver Anniversary with Mehldau and Redman Concert

The New School for Jazz and Contemporary Music continues to mark its 25th year on Saturday, October 15, at 8:00 p.m. with two of the most accomplished musicians in jazz, pianist Brad Mehldau (BFA, '93) and saxophonist Joshua Redman.
Redman and Mehldau first performed together in Redman's acclaimed quartet during the 90s. In the decade and a half since, both Grammy Award-nominated musicians have reached international and critical acclaim, while forging their own distinctive voices as modern jazz icons. Reuniting for an intimate performance, the duo format fosters a new convergence for these friends where they can openly create music that swings and deeply connects to the spirit.
"I couldn't be prouder to present these two amazing musicians in association with our 25th anniversary celebrations. They embody all the qualities we seek to instill in our students and in the culture of our school; complete dedication to craft and to who they are as artists in their own time and place, always searching for what's around that next bend in a continuous journey of self discovery," says Martin Mueller, executive director of the New School for Jazz and Contemporary Music.
The concert will take place at Tishman Auditorium, 66 West 12th Street. Tickets are $55 for general admission with no reserved seating and may be purchased by visiting the New School Box Office website.
It is a continuation in a series of concerts in celebration of Jazz's 25th Anniversary year. Upcoming events include a joint Mannes/ New School Jazz percussion concert on November 8th, a Fall 2011 joint collaboration with the National Jazz Museum of Harlem entitled 'Harlem Speaks', and a year-long series entitled 'Jazz Presents' which will include three concerts in the fall led by NSJCM faculty (Jane Ira Bloom Nov 17, Chris Stover Oct 26, Amy London Dec 14) and 3 concerts in the Spring (Hal Galper March 6, Kenyatta Beasley, plus a special NSJCM Faculty Collective show), and to close out the year, a 25th Legacy Concert on April 25th, 2012.