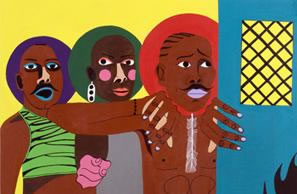 Parsons Alumna Nina Chanel Abney Featured in 30 Americans Exhibit
The work of Parsons MFA Fine Arts alumna Nina Chanel Abney '07 is currently featured in "30 Americans," an exhibition at the Corcoran Gallery of Art in Washington, D.C., which showcases some of the most important African American artists of the last three decades. Abney is the youngest artist to be featured in the exhibition, which also includes work by seminal figures such as Jean-Michel Basquiat and David Hammons, prominent contemporary artists such as Glenn Ligon, Lorna Simpson and Kara Walker, as well as emerging artists such as Kehinde Wiley and Shinique Smith.
Celebrity scandals inspire some of Abney's vibrant, often brazen paintings, which the Corcoran Gallery organizers compare at once to Francis Bacon, David Hockney, and contemporary street murals. I'm fascinated by how celebrity news has become not more interesting, but more important than politics. I like to infuse that with race issues,, Abney said in reference to her solo debut show, Dirty Wash. Since receiving her MFA at Parsons, Abney has held three solo shows in galleries in New York and London, as well as participated in group shows at the Brooklyn Museum of Art and Art Basel Miami.
In timing with the opening of the exhibition, Abney gave a lecture to students at the Corcoran College of Art + Design. To watch the video, click here. The exhibition is on view through February 12. For more information, visit the Corcoran website.