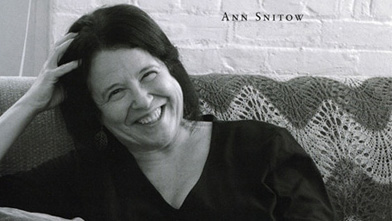 Scholarly Travels with Lang's Professor Ann Snitow

Ann Snitow, renowned feminist activist, writer and associate professor of Literature and Gender Studies at Eugene Lang College The New School for Liberal Arts, traveled the world last year when she was selected for the position Fulbright Specialist in Gender and American Studies. Her selection was on basis of her feminist scholarship and organizing work in eastern and central Europe, including the founding of the Network of East-West Women, a communications network linking more than 1,000 women's advocates in 30 countries in the former Soviet Union, central and eastern Europe, western Europe, and North America. This semester, her travels continue when she gives lectures and keynotes from Harvard University to Warsaw, Poland.
This September in Warsaw, Snitow was a key speaker on Global Feminism, at the Third Annual European Congress of Women. She will return to Poland on October 28th to give the inaugural lecture, "What Contribution Might Feminism Make to Political Language?" for the post-graduate gender studies program at the Polish Academy of Arts and Sciences. The next day, Snitow will be found delivering the keynote address, "A Celebration of 20 Years of Feminist Activism in Poland," at the 20th Anniversary of The Polish Federation for Women and Family Planning.
Taking a few days to rest, she will then travel to Brno, Czech Republic, where she will give the keynote address, "Gender Includes Men: An Exploration of Feminist Thought on Masculinity," at The Institute of Sociology of the Academy of Sciences of the Czech Republic on
November 4.
Snitow will conclude the semester at Harvard University, delivering the talk Reflections on 20 Years of East-West Collaboration: The Network of East-West Women in New York and Poland, 1991-2011, at the Davis Center for Russian and Eurasian Studies on December 2.
What the spring semester holds for this renowned scholar is anyone's guess. But one can be sure it will involve an airplane, possibly a passport, and most definitely a lectern and a dynamic presentation.