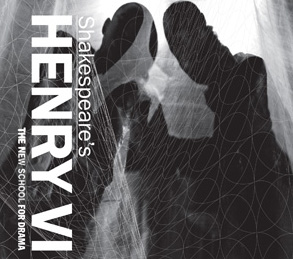 The New School for Drama Presents Shakespeare's Henry VI

Blue-blooded thugs. Machiavellian intriguers. Heroes and absurd foreigners. The king is dead, the fight is on, and the horror of war sweeps onto the stage in a struggle for power as families fall in this epic retelling of three of Shakespeare's great histories.
The New School for Drama presents the third-year acting students in William Shakespeare's Henry VI, directed by faculty member Casey Biggs. The production, adapted by Drama student Noelle Stewart, condenses Shakespeare's King Henry the Sixth trilogy into one cohesive staging. This unique, fearless, and dangerous production features Butoh-inspired choreography, unconventional casting, and innovative use of live sound and video.
We're really pushing ourselves with this project,, says actor Daliya Karnofsky. It requires our absolute strongest selves as actors ' physically, textually, and emotionally. It's the perfect culmination of our training here at New School.,
Performances held at The New School for Drama Theater, 151 Bank Street, 3rd floor, are Thursday'Saturday, October 13-15 at 8:00 p.m., with a Saturday matinee at 2:00 p.m. Admission is free, but seating is limited and reservations are recommended by calling Ticket Central at 212.229.4200, or visiting their website.
For more information, visit Drama's website.