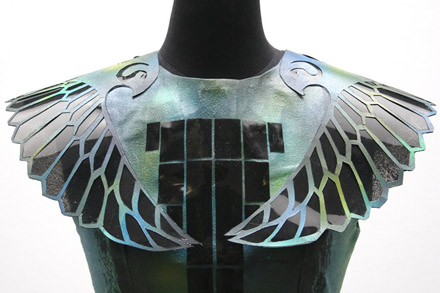 Made in China
If you were in Beijing a few weeks ago, you might have seen a gaggle of young Americans dashing through the streets, trying desperately to find someone to manufacture dresses, vests, and hats with embedded motion sensors, solar panels, miniature cameras, and temperature-sensitive inks. They needed them immediately. Getting this done is actually not as hard as it sounds, according to Sven Travis, dean of Parsons' Global and Distributed Education. "The capacity to prototype is actually much more sophisticated in China than it is in New York, simply because you have access to a wide variety of fabricators, factories, and jobbers."
That's lucky for the few dozen students who participated in the eighth annual Parsons trip to China, a month-long program that involves collaborations with institutions in China. Working with organizations like RAWR Studios (run by Ben Bacon, an assistant professor of computational and media design at Parsons who is based in China), Tongji University in Shanghai, and Tsinghua University in Beijing, students turned traditional Chinese kites into environmental sensors, took part in impromptu hacking sessions, and developed a variety of video and photographic projects. This year, participating Parsons faculty included Aneta Genova (Fashion), Katherine Moriwaki (AMT), and Joseph Saavedra (AMT).
Perhaps the most challenging of all these projects was the Fashionable Technology program at Tsinghua University. Parsons students, working in teams with Tsinghua students, had to take projects from ideation to prototype in just two weeks. It was like a semester-long design class at Parsons, but "highly condensed," recounts Travis. "It's the kind of project all the students are used to doing in New York—they pull a few all-nighters, and they make some good friends." This is where the running around came in: Students had to find someone to make their hat, jacket, or handbag to odd standards and on extremely short notice. Travis expands: "One of the things about doing a project on the road like this is that you don't have access to your traditional fabrication or workshop environment. It prompts students to be creative, to explore the city they're in and try to determine what is possible."
It's this rush, this unpredictable hustle to achieve something in a faraway place, that keeps faculty members returning to the program and students returning to China when it's over. "It's not uncommon for us to have faculty and students return two, three, or four times," according to Travis. "That's as it should be. You want people to be making connections, having experiences that influence what they do. These are formative, sometimes seminal experiences for people." Parsons graduates currently work for a number of companies and art institutions in China, including Nokia, and last year's Parsons in China projects were featured in Translife, a major exhibition at the National Art Museum of China.