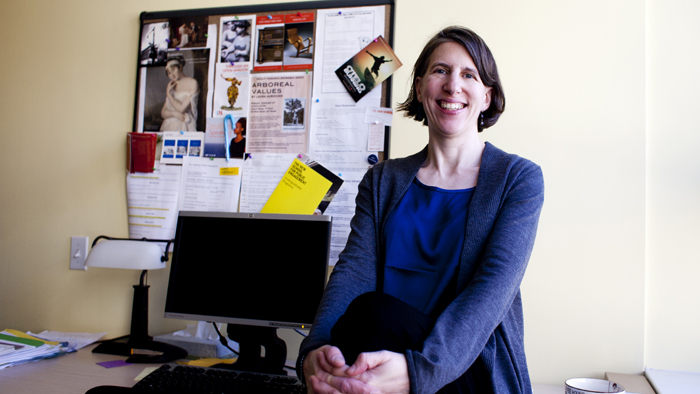 Tree Huggers of the Enlightenment
[soundcloud id='76819185′]
Although the term "tree hugger" first appeared in 1965, environmentalists—particularly those with arboreal leanings—have been around for centuries. Just ask New School art historian and Parsons associate professor Laura Auricchio. Trees of the 18th century are her latest academic focus—and the topic of this week's Research Radio podcast, "Tree Hugger." Click on the player above to listen to the episode.
Auricchio, co-editor of the recent book Invaluable Trees, first stumbled upon receipts for trees from the Marquis de Lafayette while researching another topic. Later, she found similar notes on exchanging trees from Thomas Jefferson. Then there were the letters, also dating back to the 18th century, between Lafayette and George Washington, some on caring for trees and exchanging specimens across the Atlantic.
"It was incredibly eye-opening," says Auricchio. "All of these founding fathers—Washington, Jefferson, Lafayette—took their trees very seriously." Indeed, more than a strictly personal interest for these revolutionaries, the sustainability and vitality of trees were very much a part of the politics of the times.
"Both the French and the American governments explicitly used trees not only as part of their diplomatic missions but also as a means of influencing aspects of culture," she says. According to Invaluable Trees, French authors even proposed filling arboretums with species from immigrants' native lands for purposes of comfort and to facilitate immigrants' assimilation into French society.
Invaluable Trees is a collection of essays focusing on the varied uses and meanings of trees in the 18th century. Articles range from musings on what the impact on the slave trade would have been had Americans favored maple sugar over sugar cane, to stories of neighborhood competitions in which enormous tress were whittled into passageways for carriages.
Beyond offering historical anecdotes, the book reveals an 18th-century awareness of the environment and the need for conservation that might seem far ahead of its time. "We sometimes think we're coming to things for the first time, and we're actually not," says Auricchio of the modern-day environmental movement. "Conservation and deforestation are issues people have been grappling with for centuries."
So if the phrase "tree hugger" calls to mind a dreadlocked hippie longing for the 1960s and 1970s, think again—and find some space for George Washington in your definition. Download the episode here.
Research Radio is a New School podcast series that tells stories of academic inquiry at the university. From sustainability to psychology to politics, our faculty and students have been researching pressing social and scientific issues for nearly a century–and now you can listen to their latest findings. Subscribe to the podcast on iTunes.