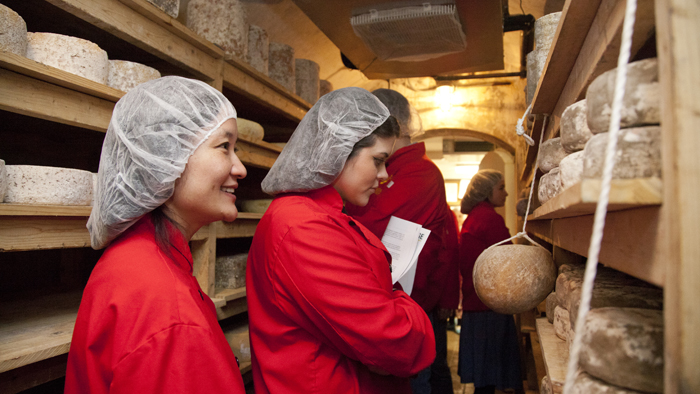 Out of the Frying Pan: New Program Bridges Textbooks and Cookbooks
Since The New School for Public Engagement launched its nationally recognized Food Studies department five years ago, hundreds of students have learned that there's more to a meal than meets the eye (or the mouth, as the case may be). Food Studies luminaries like department coordinator and professor Fabio Parasecoli, food historian Andy Smith, and microbiologist Ann Yonetani have taught New Schoolers that the dinner plate is where culture, politics, and scientific and economic forces come together to say nothing of gastronomy.
Now, undergraduates from The New School for Public Engagement have the opportunity to combine this learning with top-level, hands-on kitchen training. Earlier this semester, The New School began a collaboration with one of the world's leading culinary educational institutions, The International Culinary Center (founded as the French Culinary Institute). Students in the program can enroll in The International Culinary Center's six- to nine-month culinary or pastry programs for credit towards both a culinary certificate and a New School bachelor's degree.
"This program is geared toward a new kind of culinary professional, an individual who has equal mastery of kitchen technique and cultural analysis," said Parasecoli.  "Food has become such a big part of the cultural conversation, and even casual diners are becoming more informed about their food choices. To address this evolution, professionals across the culinary industry must understand the cultural, political, and historical forces that meet in the kitchen."
The agreement expands on an existing collaboration between The New School and The International Culinary Center that allows International Culinary Center students and alumni to transfer credits toward a Bachelor of Arts or Bachelor of Science degree from The New School. Current undergraduates at The New School for Public Engagement who have a GPA of 3.0 or higher and at least 24 completed credits are now eligible to enroll in the International Culinary Center's professional training programs for credit toward their New School degree. Programs such as Classic Culinary Arts, Classic Pastry Arts, and Italian Culinary Experience each earn students 22 credits.
What's more, the agreement is flexible: Students can take their International Culinary Center courses at the New York or San Francisco campus and they can take their New School courses on campus or online from anywhere in the world.
Parasecoli added that the program is "not just for chefs. This a terrific opportunity for aspiring food writers, marketers, restaurateurs—or anyone who is interested in investigating our society through its foodways."
Interested in joining the next generation of great culinary professionals?  To learn more, visit www.newschool.edu/icc.