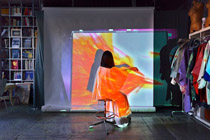 A Symphony of Looks
The tuxedos and formal gowns worn by orchestra performers haven't changed much for more than a century. At The New School, some students are hoping to change that.
As part of a year-long collaboration with the Baltimore Symphony Orchestra, initiated by its music director, Marin Alsop, teams of students from the Integrated Design and Design and Technology programs at Parsons The New School for Design worked collaboratively with their peers from Mannes College The New School for Music to envision the future of orchestral performance. The students created innovative performance wear that incorporated sustainable fashion concepts and wearable technology features.. The project was led by faculty members Sabine Seymour, director of the Fashionable Technology Lab at Parsons and fashion designer Gabriel Asfour of ThreeASFOUR, with support from Mannes Dean Richard Kessler.
The fruits of their work were presented Sunday, May 5, as the kickoff of the third annual Parsons Festival, which runs through May 24. Above, watch a performance created by the Visuano team. Their presentation uses a motion-activated digital projection system developed by Quiyi Wu and Boshan Zhou, students in the  MFA Design and Technology program at Parsons, and visiting scholar Yinan Zhang. Their system is based on a Kinect box and other technologies, including custom software. The projections create beautiful colorfields that dance in time to the pianist's performance.