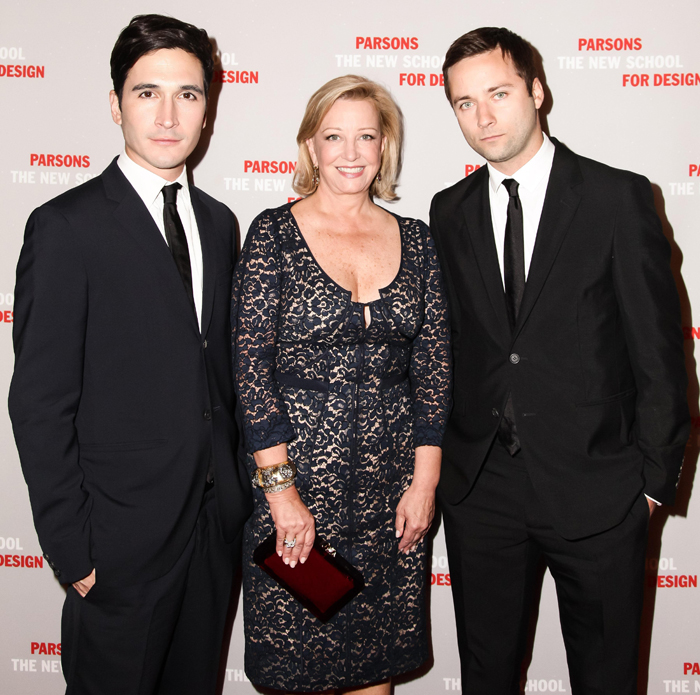 To Your Benefit
On Thursday, May 22, nearly 1,000 luminaries from the worlds of fashion and media descended upon Pier 60, Chelsea Piers, for one of the highlights of the Parsons calendar. The occasion was the Parsons Fashion Benefit, the 65th annual celebration of the work of our students, the accomplishments of our alumni and other fashion industry leaders, and the spirit of creative risk-taking the school encourages, which raises funds for scholarships at Parsons—this year nearly $1.7 million worth.
The New York Times' revered photographer Bill Cunningham prowled the entryway, snapping photos of alumni Prabal Gurung, Narciso Rodriguez, Tracy Reese (who introduced a runway show of student collections), and many others. New Parsons Board Chair Kay Unger was also on hand, as were Parsons' Executive Dean Joel Towers, New School President David Van Zandt, and of course the honorees, Parsons alumni Jack McCollough and Lazaro Hernandez of Proenza Schouler, and Bonnie Brooks, president of the Hudson Bay Company.
The evening began with a runway presentation of the top collections of graduating students in the BFA Fashion Design program. The designers, profiled the next day in a beautiful photo essay by The New York Times, all leapt from their seats as the show began and crowded close to the stage. This year's designs were particularly well done, and have earned their creators coverage everywhere from indie music site Pitchfork to New York Magazine's The Cut and Newsweek/The Daily Beast.
Later in the evening, Brooks, McCollough and Hernandez were recognized for their significant contributions to the field. Past honorees include Donna Karan, Reed Krakoff, Francisco Costa, Diane von Furstenberg, and Marc Jacobs.
"Bonnie sets an example for our students of a fashion industry leader who has risen to the top of her field, revitalizing major retailers from North America to Asia. Her deep commitment to design and creativity reflect the core values of our school," said Towers. "Jack and Lazaro's ability to transform their thesis collection into one of today's most successful fashion labels is an unparalleled success story. It demonstrates the keen design talent and entrepreneurial instincts we strive to foster in our curriculum."
Said Brooks, who received her award from fashion television personality Jeanne Beker: "I have worked with many designers throughout my career and believe strongly in discovering, nurturing and supporting young and emerging talent. Parsons has launched many famous careers in our industry, from Donna Karan, Marc Jacobs and Tom Ford to a new generation of designers like my fellow honorees, Jack and Lazaro. None of us in the industry would be here without the creativity and discipline that is fostered at schools like Parsons."
"We are so lucky to be part of an industry that encourages young talent," said Hernandez with McCollough, in accepting their award from The New York Times' Cathy Horyn, an early supporter of their work. "Not only did Parsons provide us with a foundation in design, but also enabled us to form relationships that jumpstarted our careers, which began this very night eleven years ago. This is a full circle moment for us in accepting this award."
Following the presentations, Simon Collins, dean of the School of Fashion at Parsons, joined the honorees to announce the Designers of the Year, an honor received by alumni McCollough '02 and Hernandez '02, as well as Marc Jacobs '84 in their graduating years. This year's recipients were Womenswear Designers of the Year Harim Jung from Seoul, South Korea, and Kaye Applewaite from Barbados; Menswear Designer of the Year Yunxiang Sharon Zhou from Tai'An, China; and Childrenswear Designer of the Year Diana Flavio Woodside from Los Angeles.