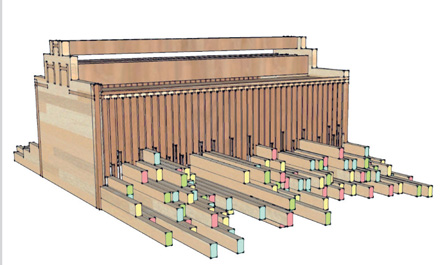 Temporary Works
This past spring, Adam Brent, the Director of the BFA Integrated Design Program in the School of Design Strategies at Parsons, led a course called Temporary Works. His students worked with the New York City Department of Transportation (DoT) Urban Art Program and Pedestrians and Sidewalks, Public Plaza Program to imagine workable, beautiful seating solutions for a small park in the Brownsville section of Brooklyn called The Zion Triangle.
The course sought to investigate the important role that art and design can have in the rebuilding of cities—enriching public space and fostering civic life.  Students worked both individually and in groups to research the area around Zion Triangle. They designed public seating that attempted to combine practical, environmental and emotional needs, while improving the look and feel of this public space.
Their designs variously encouraged residents to play with the structure of the benches themselves, provided micro-green spaces, or transformed from bench to table with a small push. At the end of the semester, they presented seven individual proposals for Zion Triangle to the DoT.  The city will now review the proposals, and consider adopting them. Brent will lead a different group of students in spring 2014 to work with the DoT again, around a different site.
Check out the student designs below.