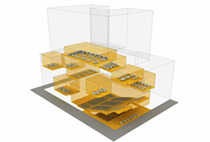 The University Center: A Space for Everyone
When the University Center opens in 65 days (it's the final countdown!), its brightly colored interior will be the first thing that catches the eye. The academic spaces and hallways that make up floors two through seven are splashed with green and orange, purple and yellow. Read on for a preliminary tour of the University Center's vibrant creative hubs and collaborative spaces.
Event Café: The main entrance overlooks one of the most multipurpose student spaces in the building—the Event Café. The space functions as a meeting place, coffee kiosk, and event space and features a small stage area with sound and lighting capabilities. "I envision this area as sort of an informal performance space for Jazz and Mannes, faculty members or students can organize pop-up classes or exhibits, drama students can put on a small production, and more," says Michael Joy, the director of campus planning.Directly above the Event Café, in the lobby, are steps forming a mini-amphitheater for additional seating. "We're hoping the stairs become a place where people engage with one another."
Communicating Stairs : Upon entering the building from 13th Street and Fifth Avenue, the most prominent feature of the building is two grand staircases. Connecting the first seven floors of the building, the staircases lead to large open landings—or interactive spaces—on the third, fourth, and fifth floors, which are designed to serve as impromptu gathering places.
The Center for Student Success: One of the most novel features of the University Center is the Center for Student Success, housed on the fourth floor. This cross-divisional multiservice career and professional development center is staffed with individuals who will help students make well-informed decisions about their education and their career goals. "We want to help students think about their goals after graduation from the first day they step onto campus, and align their education with those goals," explains Michelle Relyea, the Vice President for Student Success. "The robust resources offered at the Center for Student Success will help seamlessly guide students into a successful future."
The Center for Student Success will bring together undergraduate career services, which were previously separated by division. Counseling and advice will eventually be made available to graduate students. The Center will include rooms for meeting with career counselors, areas for students to have professional interviews, as well as an adjacent student lounge.
For the latest news on the University Center as it enters the final stages of construction, visit the University Center Web page.