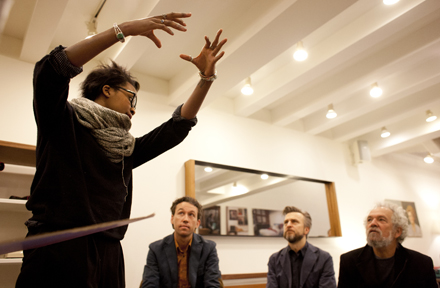 Parsons Students Confront the Challenge of Packaging
Lorenza Aceves looks concerned.  Standing among 30 others or so in the back of Blu Dot Studio in Soho, she gazes in consternation at a handful of people—six in total— working at a table in the center of the room. They are using a variety of power tools to piece together oddly shaped, 2-inch slabs of birch. After jiggling a few pieces into place, the builders turn over the construction and place it on the floor.
"Something's wrong," says Starling Keene, the associate principal at SHoP Architects. She picks up the instruction manual for further scrutiny. Aceves, who had been watching the process silently, walks over the turns the paper around. "You were looking at it upside down," the Parsons junior said.  The room erupts in laughter.
Blu Dot is the site of the assembly trials for the Flat Pack Studio, a course at Parsons School of Design where students spend the semester designing products with a few key limitations. Professor Mark Bechtel challenged them to create objects that could fit into a standard UPS box or tube. The final for the course was the assembly trail, where judges Starling Keene, Parsons associate professor of product design Robert Kirkbride, brothers Granger Moorhead and Robert Moorhead of the design firm Moorhead & Moorhead, faculty member Allan Wexler, and Blue Dot co-founder Maurice Blanks had 15 minutes to build the objects with out assistance from the student designers.
After the assembly trial, the judges took time to offer advice and critique each student's work. Going back to Aceves' two-seater bench, Keene was enthusiastic about the aesthetics. "It's so dynamic and flexible," she said, referring to the alternative ways the legs could be attached to create different looks. Maurice Blanks had a suggestion for assembly. "We could've used more visual clues in the instruction manual," he said. "And does it need to be solid wood? A more hollow form would cut down on shipping costs."
Here, Betchel jumps in. "That's a good point," he says, "one of the questions I posed to the class throughout the semester is 'why should your design be flat packed?'"
Some of the pieces couldn't be assembled at the trial. Junior Mayan Hennemeyer ultimately couldn't find a solution to support the weight of a small side table. She had wanted to create a fabric curtain as the base. The judges encouraged her to continue working out the kinks of the design even after the semester was finished.
Others were mistaken for different pieces of furniture. "No! No! No!" cried out student Ella Vargas, just as one of the judges bent his knees to sit on what he thought was a stool. "It's a side table," Vargas said bashfully after her outburst, "and only holds about 30 pounds."
From the assembly trial, BechTel hoped that students would learn to explore within given constraints, and learn about different materials, form, and construction. Mostly, too, it was about innovation and fun.  "Your job as designers is to change the world as we see it now," said faculty member Allan Wexler. "We need you to challenge the conventional."