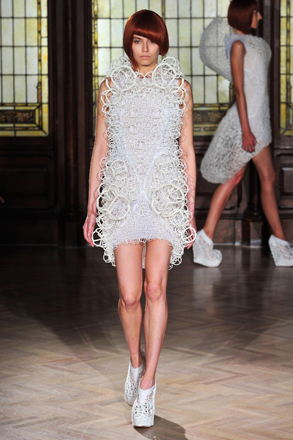 Collaboration and 3D Printing at the Jewish Museum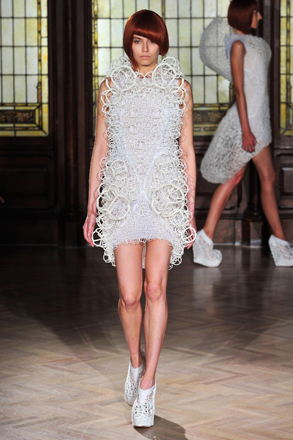 Gabriel Asfour, a professor in the School of Design Strategies at Parsons, has an interesting way of designing clothes. He incorporates history, culture, and social meaning in the garments he constructs—and uses a 3D printer to fashion them. At least, that's what the artist did for his most recent exhibition at The Jewish Museum, MER KA BA.
Asfour and a team of 30 other artists from all over the world spent the last year collaborating on an exhibit—or sanctuary—inspired by sacred geometry and tile patterns found in many churches, synagogues, and mosques. The installation overlaps and incorporates the symbols into garments, structures, and animations to highlight similarity between ancient religions and the modern connections within the group.
MER KA BA was an experimentation in 3D printing. The nine sculptural dresses featured were created from laser-cut lace, origami pleats, and 3D-printed textiles. "3D printing is definitely the future of the world," said Asfour. "I think everybody will be able to create whatever they want, wherever the want—even things like food or organs." In terms of design, 3D printing expands the discipline. "Much of the weaves and shapes that construct the garments would not have been possible to create with out a 3D printer."
With such a global team working together on the exhibit, the goal was not only to create cross-cultural reflection and fellowship through fashion and design, but also to test the boundaries of collaboration and expression. "The problem today is that no one is collaborating," said Asfour. "Everybody wants to make money, and to do that you have to work alone or at the expense of another. With this piece, though, we played with all sorts of mediums, of designers and artists, and of cultures. As a result, the work became more complex and rich."
MER KA BA runs until February 2 at The Jewish Museum in New York. For more information, visit http://www.thejewishmuseum.org/exhibitions/three-as-four.
Asfour is the co-founder and creative director of the fashion collective threeASFOUR. To view more of his work, visit his website: http://threeasfour.com.