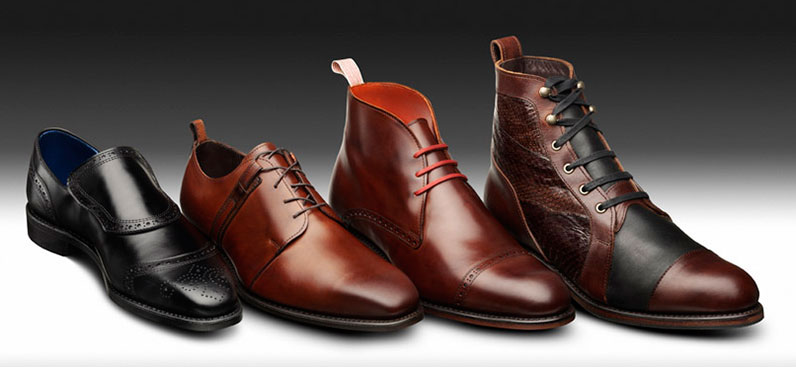 We Make Beautiful Shoes Together: Allen Edmonds + Parsons
On a recent afternoon, Parsons student Michelle Brown stood on the stage of The New School's historic Auditorium at 66 West 12th Street and spoke to a table full of serious-faced fashion professionals. Listening intently were Simon Collins, the dean of the School of Fashion at Parsons, journalist John Ortved, Allen Edmonds President and CEO, Paul Grangaard, and Maxwell Osborne and Dao-Yi Chow, designers of the label Public School and CFDA Vogue Fashion Fund 2013 winners.
Brown cradled in her hands a boot of her own design, which featured a striking stripe of red material down the side. She explained that the material used for the design detail was treated salmon skin, a nod to her Navajo heritage. She informed the panel that she had considered using walrus intestine instead—which "is really waterproof"—but ultimately decided against it.
"What did you know about shoe design before this competition?" asked Collins.
"Nothing!" Brown replied. "I started off with a very shallow idea of what this process would be like, but I learned a lot about the materials and got really interested."
Brown designed her shoe as part of the second iteration of a collaboration between Parsons The New School for Design and heritage men's footwear brand Allen Edmonds. Students began working on designs in the fall of 2013, coming up with subtle twists on classic styles from Allen Edmonds. In January, four students from the class were chosen to tour the Allen Edmonds factory in Port Washington, Wisconsin, and work closely with craftsmen at the company to refine and produce prototypes. In late March, they presented their designs to the panel of judges.
On stage last week alongside Brown were students Rheza Tanudihardjo, who presented a Frank Lloyd Wright–inspired oxford; Hannah Smith, who designed a brown chukka; and Elizabeth Gordon, who showed a black oxford inspired by her grandfather's refined taste.
Stay tuned: The winning design, to be announced in late May, will be produced and sold online by Allen Edmonds.