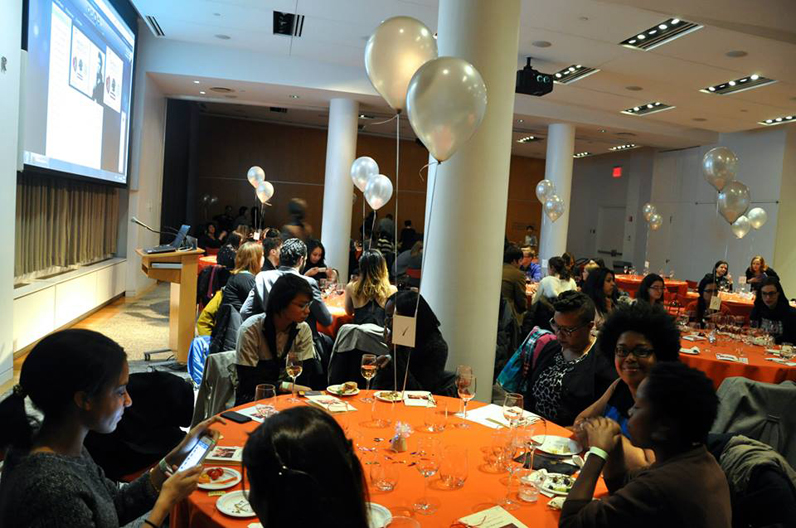 Graduating Students Celebrate Upcoming Commencement at 100 Nights Dinner
The fourth annual 100 Nights Dinner for graduating students was held last month in the Theresa Lang Student and Community Center. Marking the 100 days before The New School's commencement on Friday, May 23 at Madison Square Garden, the event has steadily gained momentum over the past few years, and has become a milestone that graduating New Schoolers look forward to year after year.
Sponsored by Student Development and Activities, the 100 Nights Dinner was initially implemented by assistant director Kate Walbert in 2000, and is a tradition at many colleges across the country, including Walbert's alma mater Marymount Manhattan College. Recalling the 100 Nights Dinner as one of her favorite memories from her college experience, Walbert wanted to establish a similar tradition at The New School.
For the past four years, Alumni Engagement and The New School Alumni Association have partnered with Student Development and Activities to plan the event, bringing in alumni speakers to offer advice and fond anecdotes of their time spent at university. Over the past few years, the dinner has also included a trivia game based on New School history.  This year, New School for Drama student and graduating senior Brennan Lowery emceed the dinner, and guest speakers included director of alumni engagement Amy Garawitz and alumni association board member and alumna Sabine Blaizin (Eugene Lang College '99). Senior Vice President for Student Services Linda Reimer imparted words of wisdom on the soon-to-be graduates, quoting a few sentences from the Dr. Seuss's famed Oh The Places You'll Go – a book long favored for graduation festivities.
The evening ended with a toast led by Lowery, celebrating the upcoming commencement and encouraging all to make the most of the next 99 days.