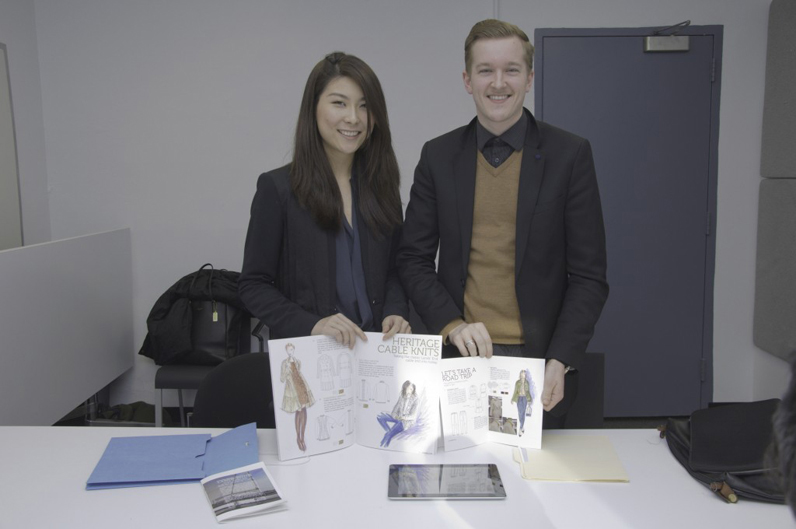 Lands' End x Parsons Winners Announced
In celebration of 50 years as an iconic American brand, Lands' End recently teamed up with Parsons The New School for Design during the fall 2013 semester to challenge students to design a new women's collection that contained a sustainable component.
Today, Lands' End announces that Benjamin Ayer (of Caribou, ME) and Pan Wang (of Shenzen, China) are the winners of the Lands' End 50th Anniversary Design Challenge and recipients of a $7,500 scholarship.
The Lands' End 50th Anniversary Design Challenge invited students to create a fall/winter collection of sustainable lifestyle-based women's apparel through design strategies that fits within the Lands' End brand aesthetic.
"Lands' End is committed to sustainability.  As a company, we strive to innovate with new sustainable materials, techniques and production processes. We are honored to partner with Parsons The New School for Design to challenge and reward their talented students for their creative ideas," says Edgar Huber, Chief Executive Officer and President of Lands' End.
"We focused on bringing modern touches to classic pieces," said Ayer. "We know the Lands' End woman loves a contemporary aesthetic with a traditional appeal. We also incorporated a lot of utilitarian details to make sure the pieces are something the wearer can live in," says Benjamin Ayer.
"My partner and I designed a sustainable collection that's versatile, classic, chic, and most of all has long lasting value," added Wang.
In addition to the winning team, two second-place winners, Rheza Tanudihardjo (and Gayatri Jolly, will each receive a $2,500 scholarship. Lastly, two third-place winners, Siyu Chen and Xuan Xuan Li, will each receive a $1,250 scholarship.
"Working with a brand like Lands' End is fantastic for our students," said Simon Collins, dean of the School of Fashion at Parsons. "In helping such a respected name move into a more sustainable future, they're learning how to confront the 21st Century design challenges that they'll be dealing with for the rest of their careers."
This post originally appeared on 560 Parsons' School of Fashion.