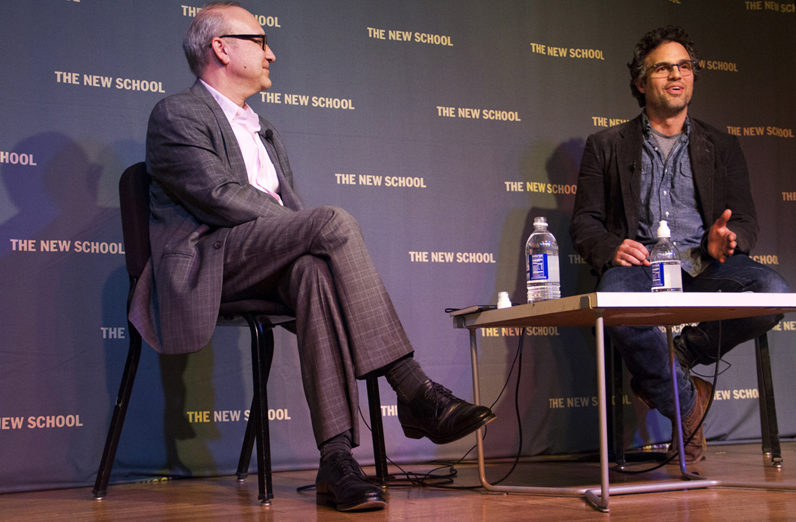 Mark Ruffalo @The New School
"Why, hello young people," said Mark Ruffalo as he settled onstage next to Pippin Parker, director of The New School for Drama. The actor and activist momentarily struggled with his lavalier mic before exclaiming, "We don't need these! We're actors! We should be loud!" The 40 or so Drama students in the audience laughed in response.
The event was part of Ruffalo's stint as Drama's 2014 Artist in Residence, a centerpiece of the program's hands-on, project-based educational method that gives students direct access to New York's global theater and acting scene. The discussion began with Ruffalo reminiscing about his early career nearly two decades ago in Los Angeles.
"Well, at the beginning my moral code was just say 'yes' to everything," Ruffalo said.
"That's not a morality, just a code," shot back Parker amidst laughter from the crowd. Parker continued: "From what I remember of those early days, the day you got your big break, you were cleaning floors at Stella Adler's.
"Not cleaning," said Ruffalo of his side job while he studied at the renowned acting conservatory. "Had cleaned."
"Oh yes my mistake," said Parker. "But that's where you met [playwright and director] Kenneth Lonergan, which led to your role on the original cast of This is Our Youth."
To this day Ruffalo still uses the techniques he learned while at Stella Adler's Conservatory, and passed those tips along during the town hall last night. One was the importance of props. "A character is how they use a prop," he explained. Picking up a nearby water bottle, Ruffalo proceeded to explain the concept while gesturing wildly. "It's always the inner that has to be tamed by the outer. Not adapting the character to the prop shows insincerity." Water spilled all over the stage as he continued to move his arms. "Actors must be honest to the environment. Props don't lie."
Another tip hit closer to home. Ruffalo spoke of how Adler always challenged her students to be well-informed citizens, and active participants in the greater community. "Artists have a responsibility to reflect the times they live in; to believe in something and stand for something," he said. "The spot light is on us as celebrities, and we have just enough time to throw someone in front who's facing a social justice issue."
Ruffalo is a living example. Worried about the risks of hydraulic fracturing for natural gas near his upstate New York home, he co-founded the Solutions Project with Stanford professor Mark Jacobson, Pegasus Capital Advisors partner Marco Krapels, and filmmaker Josh Fox. The initiative has created a plan to get every state using completely renewable energy by 2050.
"Actors by there very nature are passionate. It's part of our job. Now we need to use it for the good of society." Passion is infectious, after all.
Learn more about the New School for Drama Artist in Residence program here.