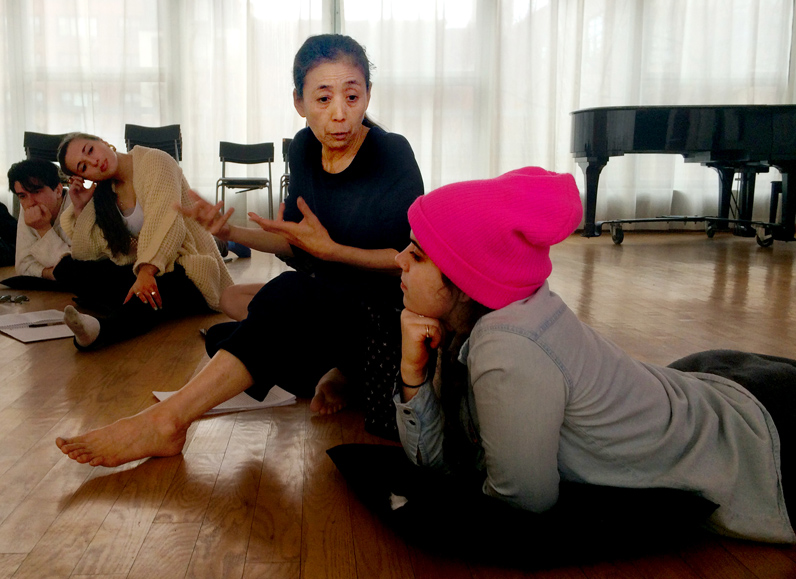 A New Way to Move
Entering Wollman Hall at 3:50 on a Wednesday afternoon this semester reveals an intimate look into a scene of undergraduate life at Eugene Lang College The New School for Liberal Arts: Ten or so students, all dressed in the latest artfully disheveled attire, mingle in small groups. One performs a series of cartwheels, another two discuss the progress of their latest juice cleanse, and while yet another rests against the back wall, book in hand. They are awaiting the start of "Delicious Movement," a course that is part seminar and part dance class, taught by Lang College artist-in-residence Eiko Otake.
"Shoes off and grab a pillow," says the internationally renowned choreographer, director, performer, and teacher. The students comply, forming a circle in the large and open room. Otake nimbly folds her figure to sit with them, then asks for input on last week's assignment—a journal entry on a historical film documenting the devastation caused by the atomic bombing of Japan during World War II. Later, the students explore their feelings about the film through interpretive movement.
The course's interdisciplinary approach to the subject matter is central to Otake's teaching methods: Every element is understood through its relationship to another. "By immersing ourselves in movies, lectures, books, and movement—especially movement—we are able to better understand an otherwise ambiguous relationship between the past, present, and even ourselves," she says. Movement is also an apt way to digest difficult material. "Learning through movement creates a sense of community," says Otake. "And at this age, when students are still so malleable and young, that provides them with an element of trust."
Otake is no stranger to reflecting on life in this manner. For more than 40 years she has performed with husband Takashi Koma Otake as Eiko & Koma. The pair creates pieces enabling them and their audiences to contemplate aspects of history and concepts through interpretive dances and performances. According to the artist, movement is an enduring way to give meaning to spatial relationships. "Once you learn how to move, it never leaves you," she says. "You're always organizing the world in that manner."
She brings her considerable experience and skill to the dance program at Lang this semester by teaching two courses, the second of which will culminate in two performances scored and choreographed by New School students. "Private Body/Public Space," the name of both the class and the resulting performance piece,  explores what it means to perform and the concept of introducing private material into public arenas.
During the last three weeks, students in this second course have been choreographing their performances in front of the large windows overlooking Fifth Avenue at 13th Street. The exercise has been slightly unsettling: Passersby often ogle, make faces, or shove their cameras in the dancers' faces. "But this is all part of the course," says Otake, "To learn to appreciate and reflect upon your vulnerability in a public space." Like many of Otake's pieces, the choreography for this work is loose and of the moment, fostering spontaneous bursts of creativity. "I tell my students to move as if they are almost sleeping or dreaming," she says. Above all, both courses are meant to invite students to explore and experiment as they decipher what it means to perform.
Performances for "Private Bodies/Public Space" will be held at the Sheila C. Johnson Design Center on April 14 and 21 from 6:30–8:30 p.m. No tickets or reservations are required.