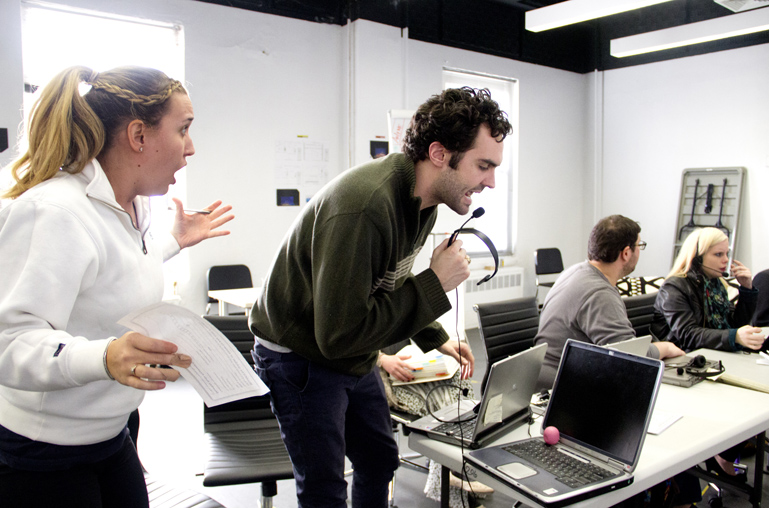 Playwrights Set Forth with New Voices
The window into room 202 of 151 Bank Street was covered black, concealing its inner proceedings from passersby. However, nothing could be done about the range of loud actors' voices that filtered out from the room. At long last, the door cracked upon. "Come inside," says a young woman, inviting a reporter from the New_s in to visit The New School for Drama. "We're just running through lines."
Seven actors, each wearing a black headset, sat at a table littered with laptops, backpacks, and papers. They were all talking at once, their voices rising in pitch until a fight broke out, sending papers and headsets to the floor. Alumnus Paul Takacs (MFA Playwriting '11) cracked a smile before openly laughing at the pandemonium. The fight was a scene from The Ladder, a play written by MFA candidate Matt Herzfeld, which Takacs is directing for The New School for Drama's New Voices festival this week.
For almost a decade, graduating playwrights have been showcasing their thesis work before packed audiences at the festival. Playwrights work with fellow student directors and actors to "create a company from the very beginning," explains Bob Hoyt, the director of professional development at The New School for Drama. "It's the atmosphere we like to cultivate from year one."
The festival is also a way for students to get comprehensive, hands-on experience prior to leaving school. "New Voices gets students out of the isolated environment that many find themselves in while completing their studies," says Hoyt. "It's important to hear and see their plays performed—to see the world they have been creating."
The New Voices festival is also an opportunity for graduates to present their work to key industry leaders. At the Industry Introduction event, held in February, alumni actors performed short excerpts of the playwrights' works to a gathering of 40 or so literary agents and managers. As a result of the event, playwrights almost always get offers of work or calls inquiring about their plays afterward. Daniel Pearle (MFA Playwriting '12) represents one such example: His play A Kid Like Jake was picked up to be performed off Broadway. This year, all four graduating playwrights were contacted after last month's event.
The festival never has a theme. "The only commonality these playwrights have is that they're very, very good," says Hoyt. "But I say that about every festival's participants. We educate exciting artists that are fearless and free thinking."
Back in room 202, the scene continues with fierce intensity, interrupted only by an actor or actress calling out, "Line!" for a prompt. "This time next week, the theater will be at capacity—it's one of our most popular festivals with the community," says Hoyt. And if the engaging and fiery rehearsal is any indication, the audience has a lot to look forward to.
The New Voices festival runs from March 13 to 22 and April 10 to 19 and features the plays of Matt Herzfeld, Sam Byron, Dan Kitrosser, and Molly Haas-Hooven. Tickets are free; seating, however, is limited. Reservations are recommended and can be made by calling Ticket Central at 212.279.4200. To read synopses and excerpts from the plays and learn more, visit the New Voices website.