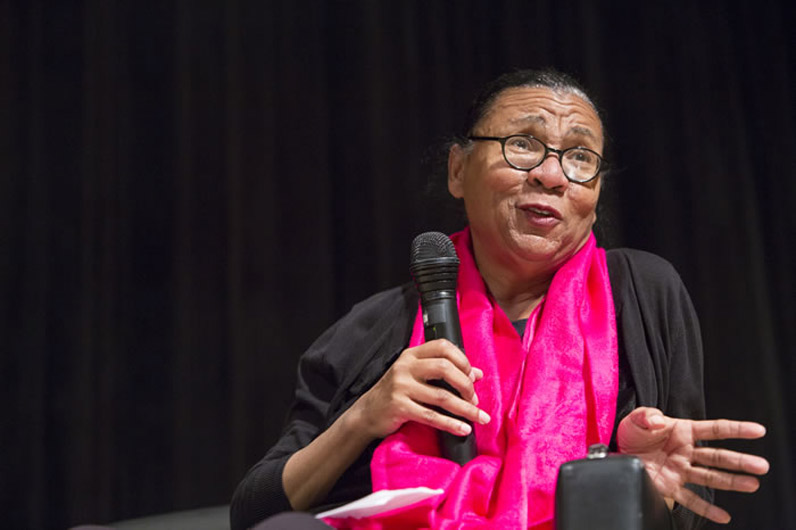 bell hooks Returns to The New School
Is Beyoncé a terrorist?
It was the suggestion that had people around the world talking – and eyes fixed to The New School's Livestream page as the renowned author, activist, and scholar of feminist bell hooks returned to Eugene Lang College The New School for Liberal Arts for a series of three public dialogues entitled "Feminism Does The Black Female Body." hooks' fall 2013 residency at The New School culminated in a widely viewed and shared public conversation with MSNBC's Melissa Harris-Perry, which The Huffington Post called "riveting."
hooks uttered her now-famous critique of Queen Bey in a May 6 conversation entitled "Are You Still A Slave?" with author Marci Blackman, filmmaker Shola Lynch, and author and activist Janet Mock. You can watch the entire conversation at new.livestream.com/TheNewSchool/Slave.
hooks' May 5 – 7 residency at Eugene Lang College also featured dialogues with anti-rape activist Salamishah Tillet (watch here); and singer Lisa Fisher and actress Kim Sykes (watch here). All of these events are open to the public. In addition, hooks' engagement  included a conversation with Professor Miriam Ticktin, Director of the Gender Studies program at The New School, open only to the university community.
Named "one of the nation's leading public intellectuals" by The Atlantic, hooks has authored or edited more than 40 books, including the acclaimed Ain't I A Woman?, Black Women and Feminism, and Feminist Theory: From Margin to Center. Her most recent book, published last year, is a collection of essays entitled Writing Beyond Race: Living Theory and Practice.