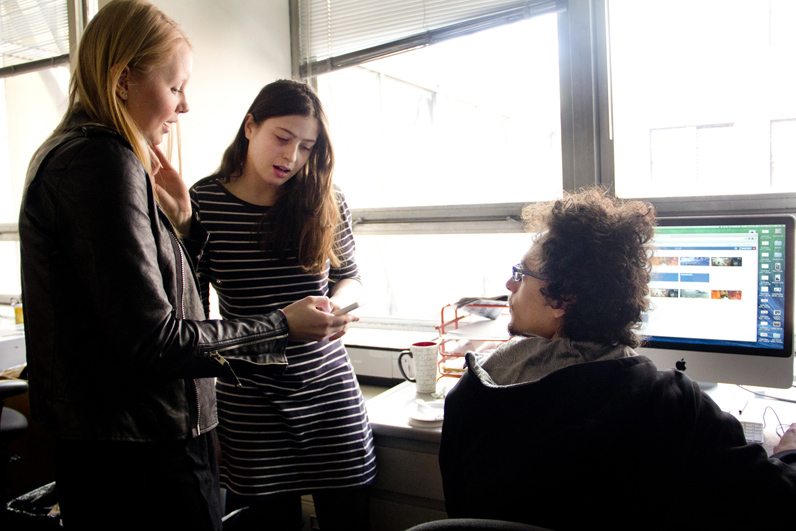 Designing the Future of Media
The bustling and cramped newsroom of The New School's student-run newspaper, The New School Free Press, is about to get a major redesign—in scope and curriculum, if not in space. Come next fall, Eugene Lang College will team up with Parsons The New School for Design to offer (pending state approval) a bachelor's degree, Journalism + Design. Created to address the lightening-speed changes that have taken place in journalism over the past two decades, the program will teach aspiring reporters and editors the core skills they will need to stay competitive in the evolving media marketplace.
The program is a bold alternative to standard journalism curriculums. "When it comes to journalism education, schools across the country are currently struggling with their own legacies," says director of Journalism + Design and assistant professor Heather Chaplin. "Many of their most prestigious professors are teaching industry standards as they were in the 20th century. The New School isn't burdened by that history. We're starting fresh from 2014 and anticipating where news reporting is going."
Chaplin's plan is to radically expand The New School Free Press, making it the core of the new curriculum. "The idea behind the new program is to make sure that students can speak the language of journalism," she explains. She points out that new tech skills may not be at the heart of class learning and discussions. "Students need to understand which medium best presents a particular story, but whether that requires emphasis on coding and Web design is subject to discussion," explains Chaplin. "Technology in reporting looks drastically different than it did even just a few years ago, so our focus will be on teaching students how to analyze facts and understand the power of the Web." Most importantly, Chaplin explains, the new program hopes to prepare students to be flexible, imaginative, and playful journalists.
That's where the program's unique design component comes in. Many schools have combined engineering or computer science programs with journalism degrees, but The New School will be one of the first to frame journalism inside a design-thinking approach.
"The idea behind the new program is to make sure that students can speak the language of journalism"
"We'll be using a design methodology that's mapped on top of journalistic practices," says Chaplin. Student projects will start with the end user—in this case, readers and the general public—and ask what sort of reporting and storytelling methods they want.  The emphasis is on fact-finding, immersion, and imagination—all key traits in design thinking and design education.
This fall, the first undergraduate Journalism + Design cohort will interact with and learn from three journalists-in-residence as well as their Parsons and Eugene Lang College professors. Rotating social media editors, data designers, and distinguished journalists from leading news organizations will lend their expertise each semester.
"The curriculum places great emphasis on the acknowledgment that journalism has since become a collective activity," says Chaplin. "It's now a dance between machines, professionals, and amateurs all working together to inform media practices and the greater public."
Learn more about Journalism + Design on the Eugene Lang College website.