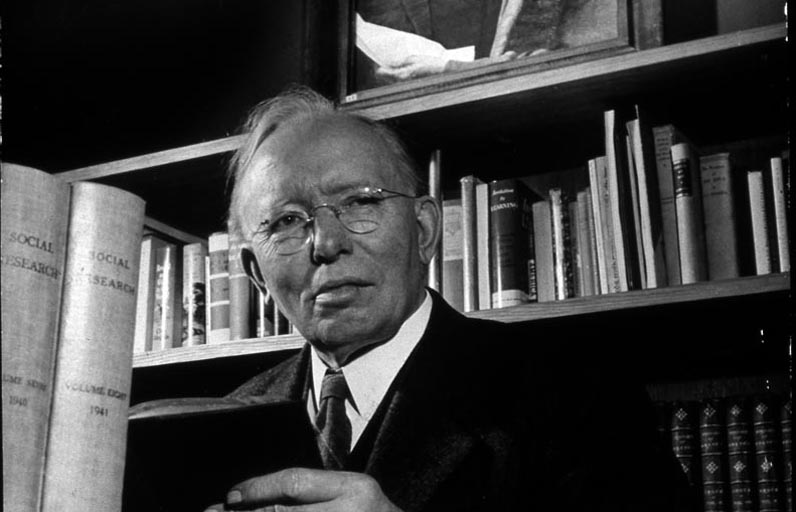 Honored at Home: New School Co-Founder's Hall of Fame Induction
If you happen to find yourself in Lincoln, Nebraska at the end of the month, don't miss Alvin Saunders Johnson's induction into the Cornhusker's state's Hall of Fame. While the announcement came about a year and a half ago, The New School's co-founder and first president will officially enter Nebraska's history books on May 30th of this year.
On May 29, the Osher Life Learning Institute at the University of Nebraska-Lincoln will sponsor a full-day symposium to reflect on Johnson's work. The program will include an examination of the University in Exile, arguably Johnson's most significant academic accomplishment during his tenure at the university. In 1933, he arranged for over 180 Jewish and/or anti-fascist philosophers, theorists, and intellectuals to escape Nazi-occupied Germany with their families and continue their work at this institution. The New School marked this historic event's 80th anniversary earlier this year.
Former Nebraska governor, senator, and New School President Emeritus Bob Kerrey will deliver the symposium's keynote address on Johnson's legacy, discussing both the University in Exile and his role in influencing anti-discrimination legislation in the United States.
The state of Nebraska, whose motto is "equality before the law," established its Hall of Fame in 1961 to honor prominent Nebraskans who have been deceased for at least 35 years. Johnson, who died in 1971, will join the ranks of Pulitzer Prize-winning author Willa Cather and noted frontiersman William Frederick "Buffalo Bill" Cody among others.
For more information, check out this article in the Lincoln Journal Star.