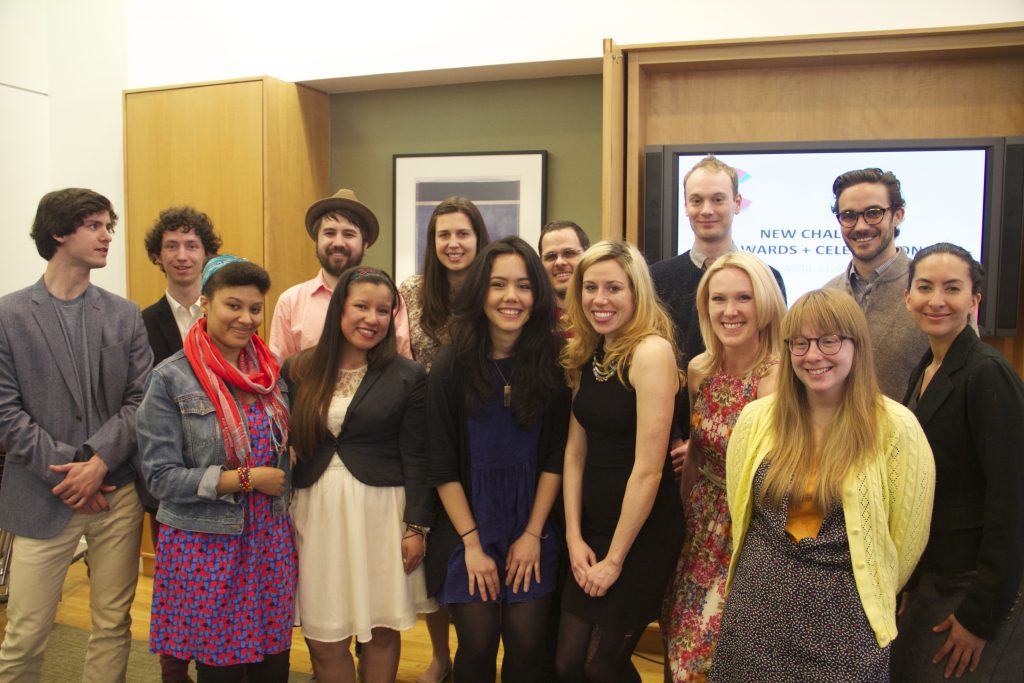 New Challenge Winners Go Up, Up, and Away
A balloon-powered data collection system. A tech-training initiative that empowers women.  A farmer-owned and operated juice bar. An orchestral group that reimagines classical performance for the social media age. The finalist groups gathered on April 21 for the 2014 New Challenge award ceremony were as varied as The New School itself.
The New Challenge offers awards from $2,500 to $10,000 and mentorship to selected student-led projects that approach environmental or social issues in innovative ways. The program, which launched in spring 2012, is led by Milano Professor Michele Kahane with a team of student program managers, with Cynthia Lawson and Mary Watson, and the support of Tony Whitfield and Natalia Petzrela-Mehlman. This year's competition drew 55 submissions from students across the university including over 100 students (over 300 students have participated since the New Challenge was launched in 2011). By the awards ceremony with the help of one hundred faculty, administrators, and alumni judges, that number had been whittled down eight teams.
Before the awards were announced, winners of last year's New Challenge sat down with Milano Associate Dean Watson, to discuss lessons learned from their experience.  Cristina Handal (Y Corn) and Annie Bickerton (Drive Change) both agreed that the resources and advice made available to them through New Challenge during the early stages of their project implementation has been key to their success. "I knew I had a community I could rely on for advice and help when I hit a roadblock," said Bickerton.  "That made a huge difference."
Kahane describes New Challenge as a "new educational platform for experiential learning that puts students at the center and helps them take their learning into action." Provost Tim Marshall stated at the award ceremony  "New Challenge is strongly aligned with the vision and mission of the university with its emphasis on creativity, innovation and social engagement."
Finally,  Courtney Locus, a Milano student, who manages the New Challenge with an interdisciplinary team of graduate students, announced the awards.   PhileasFogg, a disaster-response kit inspired by New Yorkers' response to Hurricane Sandy, took top honors with a $10,000.  The project, led by Parsons Transdisciplinary Design students James Frankis and Sean Barker, creates a network of tech-enabled helium balloons that can provide real-time images and data in the aftermath of a disaster. Befitting its reliance on balloons, PhileasFogg takes its name from the hot air balloon-traveling hero of Around the World in 80 Days. According to Associate Provost Cynthia Lawson all New Challenge winners exemplify New School students who "are re-imaging the future and leading social change."
Read on for the full list of winners and awards below – and visit the New Challenge website for more details.
$10,000
PhileasFogg – Post-disaster response, visualization, and communication kit for New York City communities.
James Frankis – Parsons, Transdisciplinary Design (Graduate) Sean Baker – Parsons, Transdisciplinary Design (Graduate)
$5,000
STEAM Punks – Technology and design teaching tools for children in Kabul,
Kristen Kersh – Parsons, Design & Technology (Graduate) Mehdi Salehi – Parsons, Design & Technology (Graduate)
 $2,500
blink blink – Soft circuit electronic kits to enhance STEM education for girls and young women. Joselyn McDonald – Parsons, Design & Technology (Graduate) Nicole Messier – Parsons, Design & Technology (Graduate)
Farm HAND –   First farmer-owned and operated food store in NYC, bring local produce to the consumer.
Sarah Mahran – NSPE/Milano – Nonprofit Management (Graduate)
Higherendeavor.com – A crowd-funding platform for student projects.
Tamara Laine – NSPE/Milano, International Affairs (BA/MA) Adrianne Spool – New School for Public Engagement, Media Studies (BA/MA)
Like Philharmonic – Ensemble of musicians seeking to engage younger generations in classical performance.
Vladislav Boguinia – Mannes, Piano Performance (Undergraduate) Yuri Boguinia – External Partner (The Juilliard School)
Material Socialism – Exhibition exploring the interplay between politics and daily life in socialist Cuba.
María A. Cabrera Arús – New School for Social Research, Sociology (Graduate) Geandy Pavón , Emilio García Montiel, and Walfrido Dorta – External Partners
Ni La Historia Ni La Paz Se Debe Olvidar– Community-based oral history and story collection curriculum that aims to serve as a peace-building resource for towns recovering from long-term armed conflict and internal displacement in Caldas, Colombia.
Jacqueline Rojas- NSPE/Milano, International Affairs (Graduate) Jilian White- NSPE, Media Studies (Graduate)