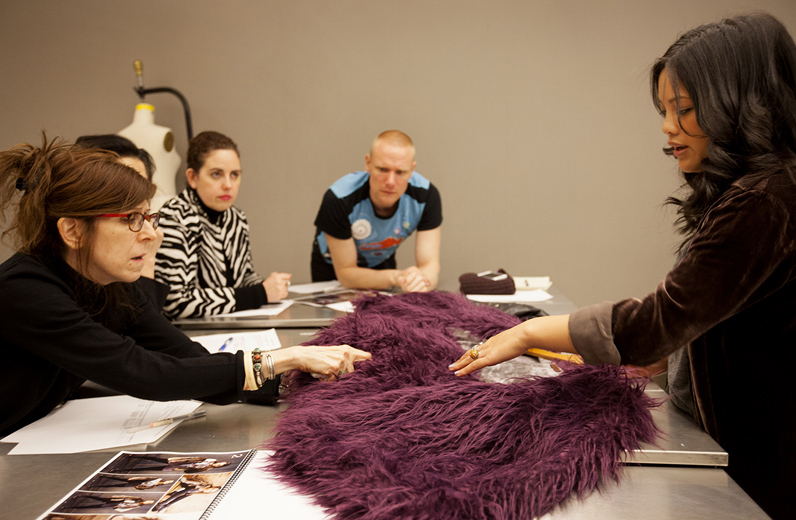 Parsons Goes Faux Fabulous Furs
The aspiring fashion designers all began with a swatch of the same fabric. In the end, that material had been stripped, dyed, weaved, layered, frayed, and cut into indistinguishable form, then masterly crafted into jackets, vests, and accessories. These final garments were the culmination of nearly a year's worth of work by junior and senior Parsons fashion design students for the Humane Society of the United States + Fabulous-Furs x Parsons inaugural competition. Presentations were held last week before a panel of faculty and industry judges in the University Center.
The competition, which began back in August, called upon students to create luxury designs using Donna Salyer's Fabulous-Fur's faux fur, in an exercise to get the industry thinking about alternative materials than animal fur. Six finalists were chosen to realize their proposed ideas, using fabric donated by Fabulous-Furs.
"This is definitely a new one for our industry," said designer and judge John Bartlett as he walked into the small studio classroom where contestants were hurriedly placing their submissions on dress forms prior to the start of judging. "This is so exciting! Faux fur is such an incredible product," he added, glancing around at the varied designs. A wispy and shorthaired woman stepped up to the table where the judges were seated, handing out photos of her design process as she began.
"This is definitely a new one for our industry," said designer and judge John Bartlett
"I was inspired by Edward Scissorhands," said XuanXuan Li. "I watched the movie like four or five times, and finally realized that beneath the rigid cloaks were soft feelings of romanticism." To highlight her point, the BAFA student in Parsons Fashion Design and Eugene Lang College Visual Studies wheeled around three dress forms clothed in long sweaters and dresses, intricately crocheted and weaved, with pieces of the faux fur jutting through in an ornate manner. "It's a one-of-a-kind pattern?" asked guest judge and Fashion Design director Fiona Dieffenbacher, clearly impressed with its complexity. Li responded in the affirmative.
Presentations for the judging included a short video featuring the design process, as well as testimonials describing each student's inspiration and reason for using faux fur. The judges then inspected each garment and grilled the students on their technique and vision for marketing the final product.
The top two winners (to be announced in May) will receive scholarships in the amounts of $1,500 and $1,000 respectively. Submissions were accepted within the categories of womenswear, menswear, children's wear or accessories, and could be developed as part of a senior thesis or a major studio project work. Students were asked to re-imagine and re-invent traditional fur designs using the more sustainable material, with an eye towards environmental and ethical impacts.