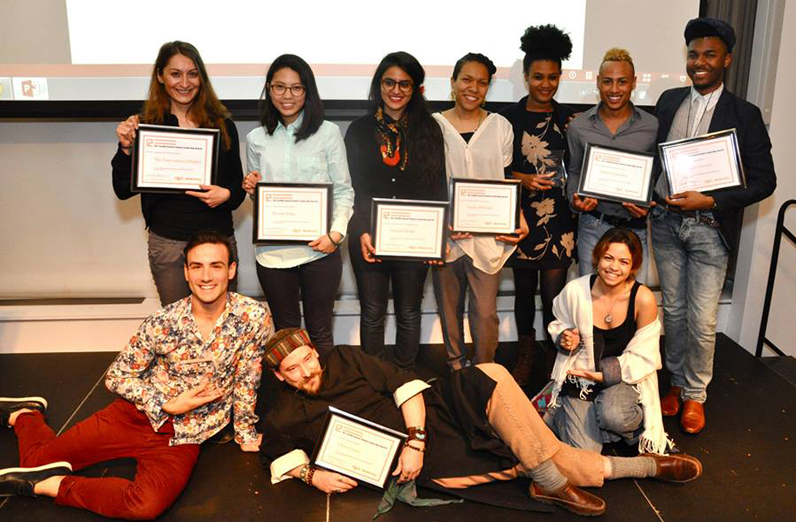 Celebrating Leadership: Above and Beyond @ The New School
Empowering New School students to develop their skills in programming, leadership and campus community building helps them to become the future leaders of the 21st century. To acknowledge those students who have gone above and beyond in these regards, the Office of Student Development and Activities held the 12th Annual Student Leadership Awards banquet earlier this month.
Twelve awards were presented to the best and brightest examples of leadership on campus, including Outstanding Student Leader of the Year, Outstanding Program of the Year, and Outstanding Student Organization of the Year.
Brennan Lowery and Jeff Adams, both graduating students at The New School for Drama, served as the evening's co-hosts. True to New School tradition, the intersection of sustainability and social justice was an evident quality in many of the nominees and winners this year. Linda Reimer, senior vice president for Student Services, was in attendance to present the Senior Vice President for Student Services Alma Mater awards to five graduating students.
Following are the award categories and winners:
Outstanding Student Organization or Group: Queer Collective
Community Service and Civic Engagement: Ateqah Khaki (NSPE)
Outstanding New Student Organization of the Year: The Non-Violence Project
Senior Vice President for Student Services Alma Mater Award: Colin Bedell (Lang); Brittany Duck (NSPE); Sarah Giffin (Lang); Natalie Marrero (Lang); Katarina Spasic (NSPE)
Outstanding Advisor to a Student Organization: Nadia Williams (New School DREAM Team)
Student Social Justice Campus Champion: Chris Crews (NSSR)
Outstanding Student Leader of the Year: William Johnson (Parsons/Lang – BAFA)
Outstanding International Leadership at The New School: Boyun Yang (Parsons)
Student Sustainability Campus Champion: Lisabeth Tremblay (Parsons)
Outstanding Student Program of the Year (Organization): Communal Meals – Slow Food
Outstanding Student Program of the Year (Individuals): Mindfulness Initiative – Erin Stafford, Ashley Thomas, Louise Hviid
Emerging Leaders: Benjamin Ace (NSPE); Emma Hersh (Lang); Elizabeth Peralta (Parsons)